We hope you love the products we recommend! All products featured on Munchable are independently selected by our editors. If you buy something through our retail links, we may earn a commission on the sale.
Working from home has its own charms and issues. While sitting in the comfortable space of your own house makes it worthwhile, there's also the fact that you don't really have anything to dress for! However, if you want, working remotely can be totally productive and therapeutic, only if you invest in super solid accessories, peripherals, and services. We have discovered these 15 work essentials from the market and the internet, which will help you peak your productivity from home.
Ember
Are you missing out on hot coffees during back to back meetings and conference calls?

Ember mug does more than just keep your coffee (or any beverage) warm. The smart mug allows you to set an exact drinking temperature, so your coffee is never too hot, or too cold. Simply select the temperature on your phone's app, and the mug will maintain your chosen temperature for over 1.5 hours. It is super easy to clean and comes with a charging coaster.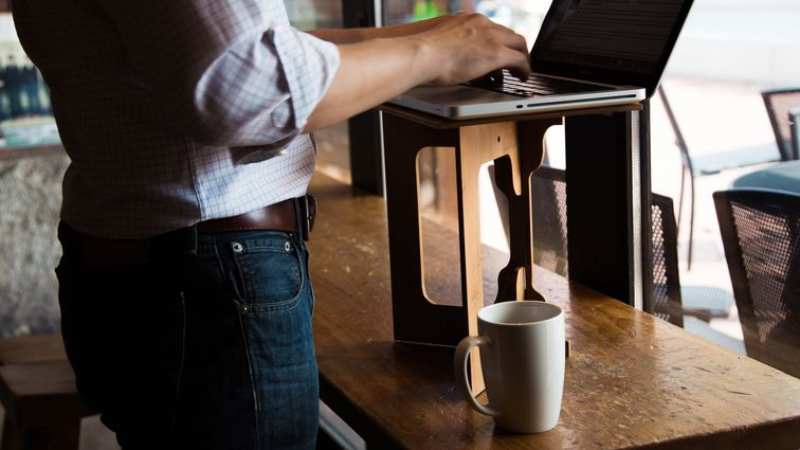 StandStand
Whether you're working from home or office, you must stand up for a healthier and happier you. StandStand gets you the most comfortable and easy-to-install standing desk, that too in a sustainable way! The bamboo standing desk holds 500 times its own weight, and folds to the size of your laptop, and fits in your bag.
Convert any table or desk into a standing desk with StanStand's two models: bamboo and birch. The standing desks come in four different heights: 9, 12, 14, and 16 inches.
Keep in mind: With StandStand, there is no additional surface workspace at standing height, only enough room for the laptop. If you have a mouse, do check out the StandStand Mouse in bamboo.
LARQ
This might be the biggest motivation to stay hydrated through your work-from-home schedule. This techie bottle is reusable, rechargeable, and well, self-cleaning.
The bottle uses a digital UV-C LED light that purifies the water every two hours (or just press the self-cleaning) button. Not to mention, it looks super chic, comes in stunning colors, and also donates 1% of its sales to the planet!
Target
Let's get your desk sorted! This self-adhesive triangle cable clips can easily stick to your desk to make sure your phone chords don't come in the way of your work.
Walmart
You may not be able to fit in a coffee making machine in your apartment, but this 34-ounce, french press coffee maker is just the right size to help you with your morning cup of coffee. With a design straight from the fifties, it is super easy to clean and store away as well.
Customer Review: "This is perfect for a rich, single cup of coffee! Keep in mind that this is a French product, and traditionally the French drink a much smaller cup of coffee. So even though this says it is a three cup press, for Americans, this is a single-serve 8-10 Oz cup of coffee. But the cup is perfection!!!!"- CoffeeLover
6. Mid-Back Mesh Office Computer Swivel Desk Task Chair
Walmart
This sturdy, comfortable chair has a supportive backrest and a durable mesh backrest. One of the bestsellers at Walmart, this chair has an adjustable height feature and doesn't take much space in your room, making it just the right addition to your makeshift office at home.
Customer Review: "I was looking for an economic office comfortable chair to work from home. This chair worked as a charm, pretty easy to assemble comes with easy instructions and back doesn't hurt even after sitting for prolonged hours. I would definitely recommend this"
Walmart
Since work from home and couches go hand in hand, here's something to keep you back straight and functional! We recommend going for this portable, yet sustainable bamboo lap desk, with adjustable heights, space for your work essentials, and a mini drawer.
Customer Review: "Nicely made; several different adjustments for angle of laptop; great for just about anywhere. Would buy again. Decorative cut-out design keeps the laptop cool."
amazon.com
To make sure all your devices are charged without making a mess, get this power strip with 8 adapter-friendly outlets and 4 USB ports.
Customer Review: "This was a great discovery when I looked for a USB charger to give relief to my laptop's battery as a USB charger. I like novel tower design. I have several USB-charge devices, some with bulky adaptors, that now have their own ports. The top of the tower has what appears to be two loose flaps that I tried to lift to get to the on/off buttons. Surprise! – Those flaps are the push switches themselves to deactivate a row of ac outlets on the tower. Surge protection was the final detail to make the sale. All electronics in one surge protector – awesome."- Maggie
Tidal is an expensive buy when it comes to its contenders, but if good quality music is what soothes your soul, it's definitely worth the cash.

The online streaming platform proudly delivers lossless, ad-free audio experience and high-fidelity sound quality, streaming music like never before.

The app has around 60 million tracks and tons of exclusive interviews and videos, playlists curated by your favorite artists, bringing you closer to your music icons!
Subscriptions start at $9.99 a month 
amazon.com
Add this classy wooden hourglass timer, because deadlines can be classy too! This one is timed for 30 minutes.
11.

Beats Solo Pro

Wireless Noise Cancelling Headphones
@beatsbydre
Working from home can get pretty much distracting, especially if you have kids. Beats Solo Pro delivers sound as you want it, with two listening modes: Active Noise Cancelling (ANC) and Transparency. Turn any space into an instant office with the world-class noise-canceling technology, Bluetooth connectivity, and a noise-reduction dual-mic for clear calls.
For this pair, style meets comfort, without compromising on the functionality, this will melt the world around you today
Customer Review: "I've had these for one week now and I can honestly say that these headphones are perfect. Most comfortable, can wear for hours without any discomfort. Bluetooth is better than my old 300.00 Definitive Symphony 1 headphones, auto-detects three different devices without having to do a thing. Sound is natural and the bass exceptional."– Gary, Walmart customer
Buy this from $264.99- $299.95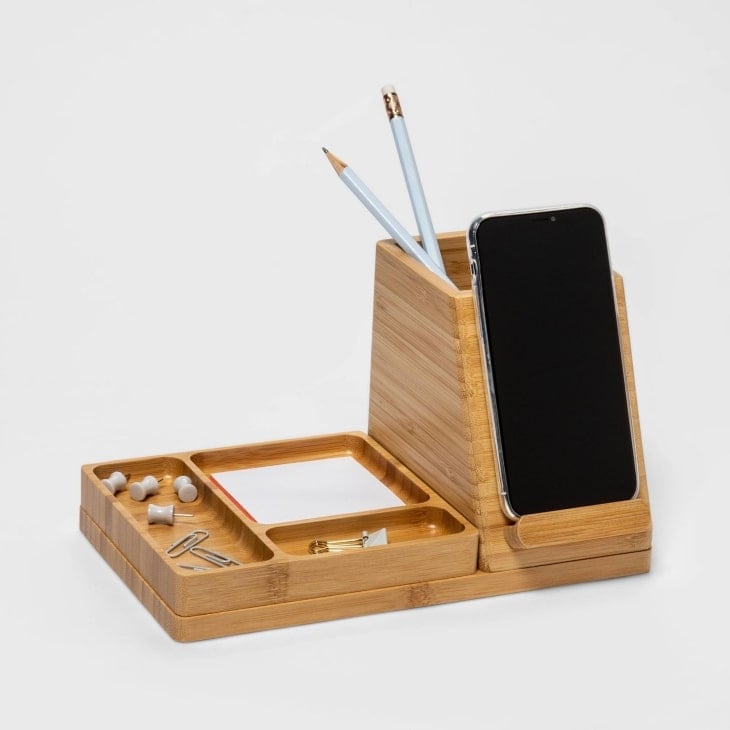 Target
Keep your desk clutter-free with this super chic and multifunctional bamboo desk storage, which keeps with an additional perk, a wireless charger. It comes with four compartments—sticky notes stand, pen holder, pin and clip holder, a cell phone shelf, and more.
Target
This super-efficient, inexpensive task table lamp with a flexible neck that allows easy focusing of light where needed the most. A perfect addition to your work desk if you're a night owl or don't have enough light in your room!
Target
Working from home can look like a long spell of the same old day! This elegant desk calendar will keep you right on track so that you don't miss out on deadlines!
Hulu
Assuming that you already have Netflix, your lunch break is a good time to explore some other entertainment options. If you want to keep up with the next-day airing of network TV shows from ABC, NBC, and Fox for one price, Hulu is a must. And with the breakout original The Handmaid's Tale, on Hulu is just getting better and better!
Also Read: Best Movies To Stream On Hulu Right Now
What's Best: Hulu now offers add-on channels, Starz, Cinemax, HBO, and Showtime, meaning you don't have to stream Game of Thrones on a separate app!
Start HULU+ Live TV starts at $54.99/month
What else do you think must make it up to our work essentials list? Share your work from home saviors in the comments below!