My Modern Met
Are you and your partner also fascinated by the tiny home trend? If you've thought about living in such a space, you can try it at Mt. Hood Village, just outside of Portland. This place will be welcoming travelers to their new Tiny House Village that has five different types of accommodations ranging from175 and 260 square feet.
It is the perfect spot for you and your partner as Valentine's day weekend getaway if y'all are outdoorsy vacationers who love hiking. You guys can also soak in the breathtaking views of Mt. Hood, and experience the local in nearby dining and art joints which Portland is known for. The Village Resort is currently accepting advance bookings.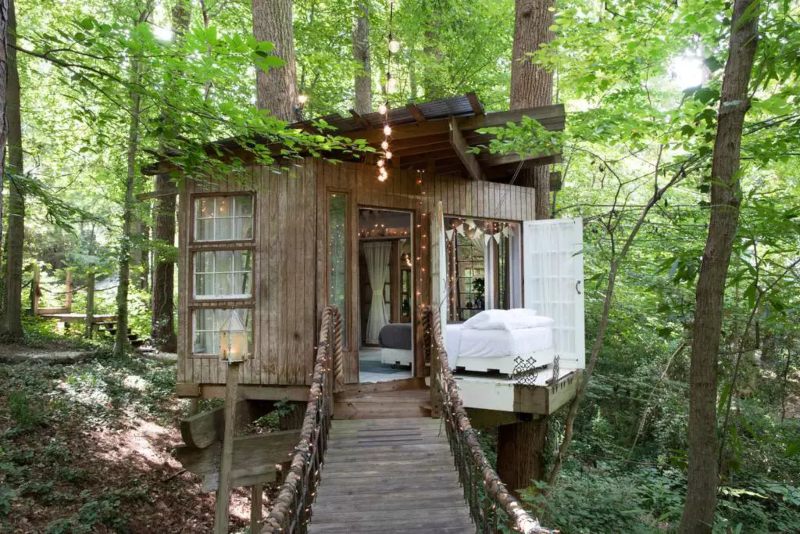 Brides
Want to live like Tarzan and Jane in your own treehouse and be one with nature? We've got you this Valentine's day. This Atlanta treehouse is Airbnb's number one wish-listed property in the world. With the quiet of nature and beautiful forest-like surroundings, this is an amazing getaway to relax—mind, body, and spirit. You and your partner will get a whole wellness awakening from within during this V-Day retreat.
Auberge Dy Soleil
It is safe to say that romance does reign supreme in Napa Valley. With their locally sourced cuisine, charming accommodations, and obviously the world-class wine, it makes for one of the most seductive destinations in the United States, err the world. A romantic spot to choose for your Valentine's day weekend getaway. You can spend Valentine's Day sipping vino at various tasting rooms (Alpha Omega Winery, Charles Krug, and Trinchero are a few of our favorites) or simply enjoy a gourmet picnic. All this and more at the hub of romance, Napa Valley.
Brides
This is the first and one of the only underwater hotel in the United States, called Jules' Undersea Lodge, which was opened in 1986. Please note, but this isn't for luxury lovers or five-star devotees at all. The Jules' Undersea Lodge is tailored to serve real-deal dive enthusiasts. if you and your partner make the list, you can go here for a fun and adventurous Valentine's day weekend getaway.
The place is equipped with 42-inch round windows, beds, and other basic essentials, on the bottom of a well-protected lagoon. The coolest thing to note is that the only way to gain access to the place is to Scuba through a tropical mangrove habitat. If you're not ready to take the plunge just yet, you can also do a discovery course before committing to an overnight.
My Modern Met
You'll take back something as an extra part of the stay if you were to visit the "100 Years of Hollywood" room at the Bella Vista Bed and Breakfast in Coloma Lotus, California. Thinking of a quick Valentine's day weekend getaway? This quaint living space might just be a perfect choice! This homey accommodation is equipped with a well-hidden quarter that you can only access by opening a rather special book on the bookshelf. All you gotta do is pull it out.
In order to learn more about how you and your partner can enjoy a cozy stay in the secret room, visit the Bella Vista Bed and Breakfast.
Brendan McGuigan
Want to do something off-beat with your partner this Valentine's day? You'd be happy to know that Skunk Train is repurposing unused train tracks as adventurous tour routes. An adventurous excursion through the world-famous Redwood Route in northern California is one of its most popular experiences. But the coolest part is, instead of riding the rails by train, you and your partner can pedal an electric railbike for two.
Since there's really no need to steer the railbikes, the two of you can simply sit back, pedal at a leisurely pace while taking in the beautiful earthy surroundings and scenery.
Click here to check out the Skunk Train railbikes and book your Redwoods adventure.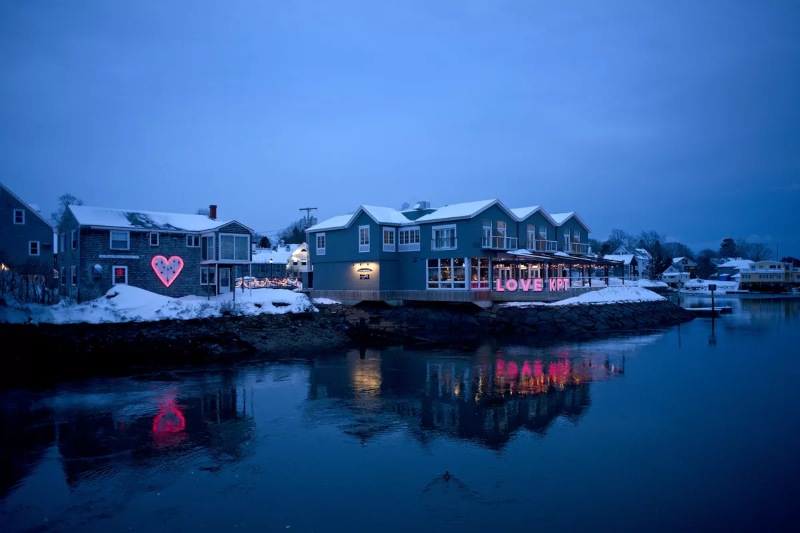 DOUG MERRIAM / KENNEBUNKPORT RESORT COLLECTION
Kennebunkport is a place that goes all out for Valentine's Day. It is an extensive month-long celebration of love that includes restaurant specials, themed events, and hotel packages. You and your partner looking for a fun yet relaxing Valentine's day weekend getaway? How about some chocolate-covered strawberries and bubbly? Yes, please!
The empty beaches and snow-dusted forests are another attraction that'll draw you. You and your partner may also rest in the deep soaking tubs and enjoy the wood-burning fireplaces at White Barn Inn & Spa.
AirBnb
Sometimes you just gotta get out there with your partner and have a nice quiet time away from home in each other's company. We have a haven for Valentine's day located right outside Nashville, that you can't go wrong with. There is no way that you won't get a nice and cozy feeling during your stay thanks to the decor and the warming fireplace.
To book your stay, click here.
Brides
The Ritz-Carlton, Dove Mountain is located at a 30-minute drive from downtown Tucson, but its rugged terrain and quiet atmosphere make it seem far-flung. We can't tell what's more spell-binding, the Sonoran Desert setting, or the soulful aesthetics. This is a lovely tranquil spot to getaway with your partner for Valentine's Day. There's a lot to do here because the spirit of Southwest comes alive through its rich textiles, and authentic artwork. If you're wondering how you want to spend your time, you could trek through the towering saguaro cacti or partake in a mixology class at Ignite. Cool, right? Something unique and one-of-a-kind for sure.
Tripadvisor
There's no place like Miraval Arizona Resort & Spa if you want to relax and tune out. This 400-acre holistic haven takes a mindful approach towards an array of restorative amenities, immersive programs, and exclusive therapies. For couples especially on Valentine's Day, this place offers introspective workshops, communication-strengthening activities, and side-by-side massages.
Choose from the 10 places above and surprise your partner this Valentine's day. There's a little something for everyone. So what's it going to be?
Related Articles:
30 Valentine's Day Gifts Under $50 That Are Totally Worth Every Penny
25 Valentine's Day Gifts For Him That Will Win His Heart
31 Valentine's Day Gifts For Her That Will Make Her Go 'Awwwww!'
25 Makeup Products For Your Favourite Beauty Queen This Valentine's Day