Yes, yes. We know that depending on electronics is not a very good way of life but what if these are the ones that uplift you and help you lead a better life? If an electronic can make your life easier, mind you – not lazy, then why not go for it? Here's a list of 17 such products that you need in your lives right now!
Amazon
Given the current climate of things around us, it is important to be safe and sanitize your hands when you're out, often. But what about our phone, the one electronic device that we use so much? This PhoneSoap 3 UV Cell Phone Sanitizer is your solution. The germicidal UV-C bulbs will completely sanitize your phone, killing 99.99% of all bacteria and germs.
Customer Review:
"I love my new sanitizer. I sanitize my car keys my iPhone and even my pens. I just flip open the case and tap the button on top. I usually use the 18 minute setting. Something is happening although you can see the light because the items come out slightly warm. I like to add a drop or two of lemon oil and it is just a little refreshing. I gave one as a gift to my sister. She loves it too. Really easy to use."
Amazon
Long working hours, drinking one's beverage slowly, or the mug simply sitting at the table untouched can lead to them becoming undrinkable. No one likes a hot brew or a cup of coffee gone cold. To avoid making multiple trips to the kitchen to heat your mug, here's a mug warmer to keep the contents fresh and warm.
Customer Review:
"Works great! Produces 220+ degrees while drawing approximately 17 watts and has plenty of cord."
Amazon
This humidifier is highly recommended to add moisture to the air, and can especially benefit people with respiratory symptoms or dry skin. What's more is that when fully charged, the humidifier runs up to 7-10 hours!
Customer Review:
"I am about to order one of these for every room in my office. Total game changer, and is helping me so much with dealing with allergies. Cedar Fever is in full swing right now but this thing is helping lots. Very happy customer here!!!!!!"
Amazon
If you're someone who's away a lot and feeding your pet is one of your worries, well no more! This pet feeder is about a week's ration for an adult dog or about half a month's ration for an adult cat. It can also be scheduled up to 4 meals per day. So don't stress about feeding your pooch when you're away!
Customer Review:
"My fur baby, Gracie, LOVES this feeder and so do I. This is the third auto feeder she has had and is by far the best. It is so clean-looking and doesn't have a lot of openings to worry about having to clean. The stainless steel bowl actually comes out to be washed! That is my favorite part, well, that and the window that allows you to see when it is time to add more food. Gracie and I highly recommend this feeder."
Amazon
Living alone and need a hassle-free breakfast prep for one? Well you're in luck because this mini machine whips out waffles, paninis and has browns to satisfy your morning grub cravings. It's easy to clean and store because of its size. And that too for just under $10? A steal, honestly!
Customer Review:
"Definitely one of the best purchases I have made on amazon so far. Just as described, it is a mini waffle-maker. The "mini" part is no joke, the whole thing is small enough to lift in one hand. Because of its size, it works quicker than a normal sized one so even though you can only make one small waffle at a time, each waffle should be done in about a minute or two. The interior is also non-stick so it is really easy to clean which was a huge bonus for me."
Amazon
If you're someone who has trouble waking up to your alarm, here's something that might just be a game-changer for you. It is a natural light alarm clock that allows you to naturally wake up to the light it emits. It also improves your ability to function in the morning. Now that's an electronic you need by your bedside.
Customer Review:
"I wished I had found this say… 10 years ago?? Total game changer. I'm a 0500 peloton rider and it's hard for me to get up without feeling totally pissed. The first night I used this light clock, I set it for 0450 but woke up at 0448 on my own… feeling totally refreshed and not pissed! For once; I was actually on time for my 0500 ride and felt fully awake when I got on my bike! If you're a struggling early riser, get it now!"
Amazon
Imagine you've woken up in the middle of the night and you have to dragg your groggy ass to the bathroom to pee. More often than not, we tend to knock into furniture or struggle to find the switch in the bathroom because it's dark at night which is where this motion sensor toilet bowl light comes into use. So don't be blinded and break your sleep, simply walk into the loo and be led by the night light.
Customer Review:
"So I always wanted one but was skeptical that it would actually work. This specific model is battery-operated and energy-saving due to its motion sensor setting. The lights appear really bright in the picture but at 3 am, they are perfect!"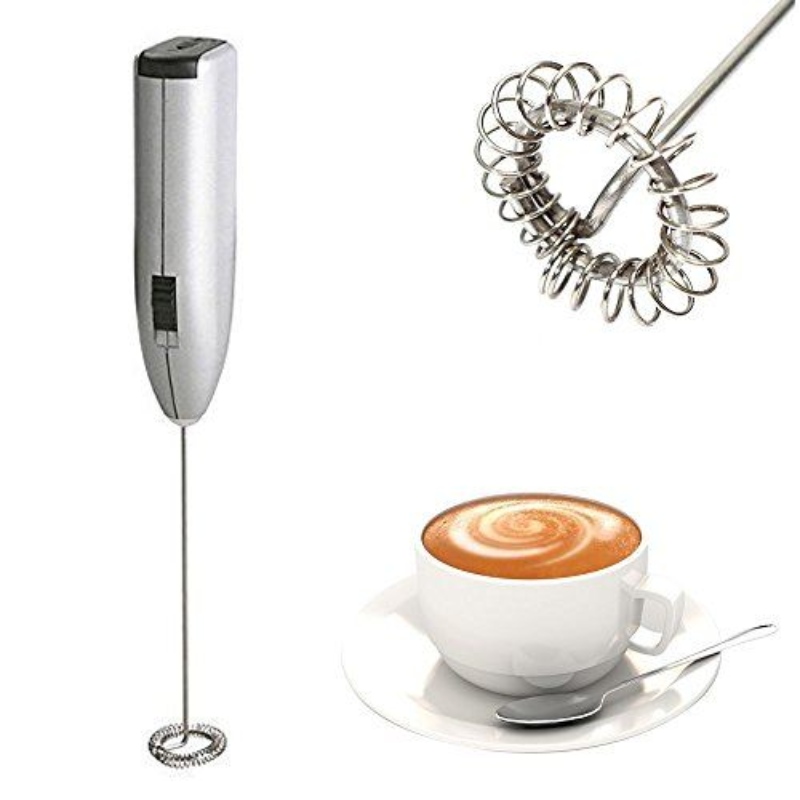 Amazon
Big fan of coffee or cold beverages? This milk frother will deliver rich, creamy froth just like the kind those professional baristas do. It has a powerful 19,000 rpm motor that works like a charm with very little noise. So now your mornings are going to be blessed with some frothy and creamy coffee or smoothies.
Customer Review:
"The Zulay Milk Frother is awesome when making Keto Coffees and Lattes. Mixes butters, coconut oils and creams perfectly for creamy coffees and teas. Best frother I have purchased and love, love, love the stand."
Amazon
This one has got to be a no brainer. Opening cans is quite a task especially for someone who's new to cooking. If you're looking for an easy-peasy-lemon-squeasy way to open your cans, this electric can opener is here to your rescue. The addition of this electronic device in your kitchen will definitely make your lives easier.
Customer Review:
"This works great. It's a bit loud but I feel that's minor compared with the hands free nature of this product. If you have poor grip or pain in your hands this is awesome. No sharp edges either."
Tienda Panama
Do you tend to get that annoying fuzz on your dark clothes? Well this fabric shaver safely removes unwanted, broken and matted fibers from your favorite clothes, getting a hold of them in the detachable lint catcher for disposal. Your clothes can now be as good as new!
Customer Review:
" I have spent hours and hours trying to groom our sofas from millions of tiny lint balls they have acquired over four years. I hoped maybe this dufuzzer might work… and WOW! This thing works like a lint mower! It's really easy to use (our 5-year-old "mowed" most of one sofa) and clean out. Really happy with the quality!"
Amazon
It is more than just a smart speaker. Enabled with Alexa, the Echo Dot 3rd Gen can play music, answer questions, read the news, check the weather, set alarms, control compatible smart home devices, and more. Your all-in-one go-to handy device. One of the coolest electronics out there.
Customer Review:
"I love my echo dot. I have four of them and they really help make my life easier. They can control almost everything, lights, locks TV, music, thermostat. It hears you almost all of the time and I've run into very few issues with it overall. I really couldn't ask for a more helpful device. It's even more handy when I found that I could get a battery base for it."
Amazon
Many people out there find it difficult to fall asleep without a sleep mask. To solve just that, here's our recommendation but with a slight upgrade. This sleep mask also plays music. So you can fall asleep to your favorite tunes or something soothing. The best part? It has a noise-cancelling feature as well!
Customer Review:
"I always have a lot of trouble going to sleep the moment I lay down in bed. I would always browse on my phone till my eyes get tired and fall asleep. This eye mask blocks out the light and the music blocks all the noise around me. It is incredibly soft and very comfortable to wear. I could wear it all night long during sleep without hurting my ears like a regular earphone does to me."
Amazon
Now no more painful blackhead removals or spending hundreds of dollars at the salon every month. This blackhead remover vacuum is all that you've been waiting for to treat your skin right and with care. It comes with a cleanser suction tool that will not scar your skin, yet work like a charm.
Customer Review:
"I got this product to use for my daughter and after the first use I was sold! It's very easy to use and it's also pretty quiet. The suction is great (hint hint don't leave it in one spot for too long). I also love the 4 little extras that it comes with (they're very useful😊)."
Amazon
How cool is this electric flameless lighter? You won't have to worry about refilling it when it runs out of gas or if it's a breezy day and you're outside. This lighter is rechargeable and easy to carry around.
Customer Review:
"This a wonderful candle, etc. lighter! I'm older and this lighter is much easier to use then a conventional squeeze extended length lighter. It's well made too. I highly recommend this lighter!"
Amazon
Sleep is more important than we give credit to which is why we have another sleep-easy product. This heated eye mask is meant to ensure you get sound sleep as it is known to be incredibly beneficial for relieving irritation and dryness. It also relieves pain and increases blood flow.
Customer Review:
"Love it. Should have gotten one sooner. My eyes get so tired sometimes & the heat applied helps. Also works good in keeping the light out. Does not feel bulky or anything. Can't even tell there is wiring & stuff inside the mask"
Amazon
For someone who's always up and about and on their feet, this smoothie blender is a great way to get a quick brekky. Just blend in some fruits and veggies of your choice and you're good to go. Since it's portable, you can also carry it to work to make your midday meals or a healthy snack for when you're hungry.
Customer Review:
"I got this blender on Wednesday and I started making fruit smoothies for breakfast and lunch then a small dinner and I'm down 5lbs ! I love this product! I will buy again or I'd love to test products from them as well!"
Amazon
It is a therapy lamp that simulates natural daylight and helps combat a gloomy mood and rainy days. This lamp has no risk of sunburn as it is UV-free. So if you tend to feel low or live in a place that is usually overcast, this lamp might be useful for you.
Customer Review:
"We bought this as a result of spending too much time inside for covid. Being inside all day causes people to become slow, depressed, and sad from lack of exposure to light. We bought this light specifically to address that lack of light like people who live close to arctic circle experience. So now whenever myself or my child have desk work to do we set to light up nearby to shine in eyes and stimulate the brain. Works well! My child is more alert and less bothered."
Us humans aim to make our lives better and easier as the days go by and here we are with our curation of product recommendations that will help you with just that!
Related Articles:
20 Things To Organize Your Bathroom With And Hail Your Inner-Monica Geller
19 Products To Level Up Your Work-Desk Aesthetic And Organization
We hope you love the products we recommend! All products featured on Munchable are independently selected by our editors. If you buy something through our retail links, we may earn a commission on the sale. Oh, and FYI — prices are accurate and items in stock as of the time of publication.