A Twitch streamer, Tim C. Inzana, spent the first 100 days of 2021 locked in a room. He live-streamed himself 24/7 during those days. Can you imagine what it would be like to be in just a room by yourself for months? But apparently, that hasn't stopped him. Tim plans to stay there for the rest of the year to promote a very unique offer.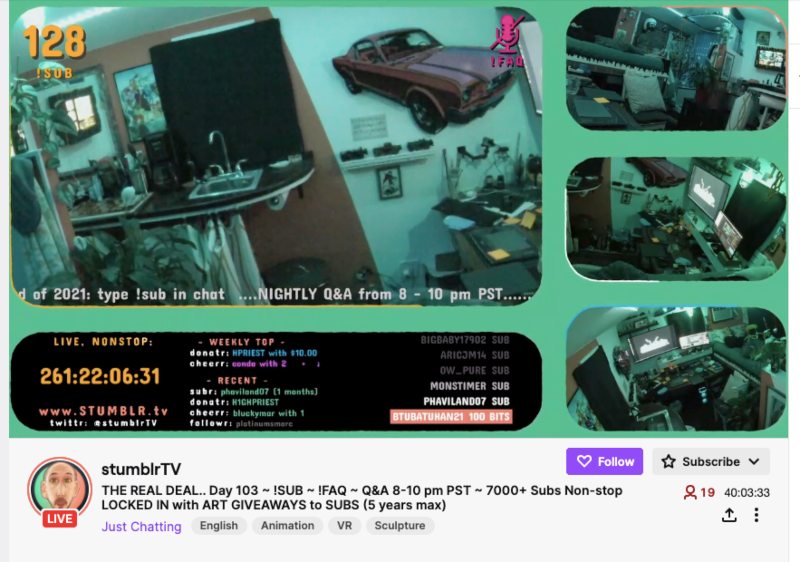 According to Tim Inzana, he can stay in the confines of a room for a minimum of 5 years for the right amount of money. The Los Angeles resident's unique project involves a lot of live-streaming and artwork.
The Twitch streamer will lock himself in an empty room for 5 to 10 years but at the right price.
He will live-stream himself 24/7 and fill it with the art he creates.
He is at least expecting $5 million from this ambitious project. How? To put it simply – Tim is auctioning himself. He will stay confined in the room for 5 years when some buyers pay him $5 million. And for 10 years, the cost goes up to $10 million.
And while he stays locked, the streamer will create a few artworks. In an interview, he said, "The artwork is me creating the artwork. It would be like seeing a blank space transform into this colorful space."
But for now, he has been live streaming on Twitch for free, but he has offered a further option. He said that if his subscribers on his Twitch go above 7,000 then he will pull back on all the offers. But he will keep his live stream running for 5 years till the time his subscriber count doesn't go below 7k.
"I don't know exactly what I'm doing, to be honest," he said. "There are elements of me just following hunches and wanting to make the world a better place."
You can find him on Twitch
Related Articles:
Twitch Streamer Makes $16,000 In Just Eight Hours By Letting People Disturb His Sleep
Italian Mafia Fugitive Tracked Down Through His Youtube Cooking Channel