Moving into a new house, a new apartment and into your own space can be daunting because there's a lot of work that needs to be done. Of course the end result is absolutely worth it, but before that you gotta find things that fit your style, aesthetic, need and mood. Here's a list of 21 products you'll definitely need for your new pad.
Amazon
Moved into your new home need to get your cook on? Here's the Dash Compact Air Fryer Oven Cooker with Temperature Control to make your cooking experiences healthy, tasty and quick!
Customer Review:
"This little gadget is awesome! I purchased it for my office at work, as I used to cook my sweet potato fries in a convection oven where I would have to go into the break room multiple times to flip my fries and reset the timer for additional cooking. This air fryer has made my life so much simpler and has eliminated all of that! "
Amazon
Instead of letting your cereal go soft in your cereal box once opened, how about a cool dispenser that will not only look aesthetic in your kitchen but also be of great use!
Customer Review:
"I love it! Just a few flaws. It seems very flimsy. Like if I were to drop it off the counter it would definitely break. I also wish there was more room for the bowl under the spout. It's hard to get a good size of cereal because it stacks up so quickly and hits the spout."
Amazon
If a lot of your furniture is wooden and you also want to avoid getting wet rings all over the place, it's nice to get your apartment a set of coasters. If you're entertaining at home, these coasters will go you good.
Customer Review:
"These are fantastic in terms of look and quality. Fits perfectly for a certain household. The holder for them is a surprising and well made addition."
Amazon
These stainless steel utensils will really take the aesthetics of your kitchen up a notch if displayed outside. And of course the utility of the can opener, the ice cream scooper, garlic press, pizza cutter and more, is right there!
Customer Review:
"I got these kitchen tools specifically for the colors and I love them and how they work. This was a great addition to the kitchen."
Amazon
Wherever you move, safety should be your No.1 priority. The SimpliSafe 8 Piece Wireless Home Security System has got your back. all you gotta do is plug in the base station, place your sensors as you please, and voila! You're all set. There's also an optional 24/7 monitoring and cloud recording with police, & medical dispatch starting at just 50c/day!
Customer Review:
"It can be a bit daunting to have to install you own security system. Making sure you do it correctly is important so that it protects your house. I think SimpliSafe got the memo…. Maybe 15 or 20 minutes ? It was set up, working, and now I am safe and secure.
I chose SimpliSafe because it was the least expensive option to have professional monitoring versus some other DIY options out there. I looked at ADT but it had long term contracts and Vivint which was much more expensive per month. Now, I'm set up and have monitoring so now my house is protected (without breaking the bank)."
Amazon
One of your basic necessities while moving into a new apartment would be to get a bed frame. You'll need one for your room to sleep comfortably in, of course with a mattress. This one is wooden, pen concept with a minimalistic headboard.
Customer Review:
"I have been using this queen-sized frame for 3 weeks now and must say that I am pleasantly surprised by it and would have no reservations recommending it to others. I was looking for a solid wooden slat frame for my soon to arrive bed in a box. I confess that some of the previous reviews for this product made me think twice before ordering, but I certainly am glad I did."
Amazon
When you snooze for the day, be comfortable in your new house in this twin mattress bed. This mattress has the unique properties of gel and comfort that'll give both pressure point relief and a cool comfortable sleep environment.
Customer Review:
"I am so impressed with this mattress. We just moved internationally and left our old tradition spring mattresses behind, it was simply not worth the cost of moving it. I decided to purchase the sweetnight because of cost and convenience, I ordered two, so they would arrive on the day of my arrival to an empty house, how Convenient!"
Amazon
As plush as this comforter looks, it is exactly how comfortable and soft it is. The microfiber alternative fill has a 300 gsm weight and provides you comfort without any feathers, odor, and sharp quills.
Customer Review:
"Exactly what I was looking for! I live in Miami so I've always been looking for bedding that won't capture too much heat or any at all. I've tried a bunch in the past but THIS IS IT. It's truly light-weight and perfect to put inside a duvet. It lays pretty flat and isn't puffy or thick. I just purchased all linen bedding and this comforter is absolutely made to be inside a duvet. The linen duvet I have has strings in the inside corners and THIS COMFORTER has little loops on the corners so the comforter can be tied to the duvet and never slide around. Genius! "
Amazon
Not only a new apartment essential, but also a kitchen essential, this 3 piece cutting board set is a must have! If you like to cook yourself meals that involves a lot of dicing, chopping and prep, these boards need to be in your cart right now!
Customer Review:
"I love these cutting boards. This is the 3rd set I've purchased. The boards are of high quality and last a long time. I do like to replace my cutting boards due to germs, so the price point of these are perfect for that. They clean well and I don't hold food stains. The rubber sides are great for non-slip surface. The rubber itself adheres to the board smoothly so I don't worry about germs getting trapped inside the cracks."
Amazon
It also goes without saying that you'd need plates and bowls to eat food right? Well, whether you already own a set or not, this striking blue 20-piece dinnerware set is a proper steal!
Customer Review:
"Absolutely love this dish set. The coloring looks great even thoigh there is some variation to the coloring in each piece and each piece looks slightly different but they still look great. They are definetly not thin or easily breakable. They are heavier but not to heavy. Very large in size you can fit a little bit of everything for a thanksgiving meal on one plate!!! "
Amazon
Moving into a new apartment means setting up stuff from scratch unless you have some stuff from your older place. However, if you love to cook, why not upgrade to a new stainless steel utensil set for your kitchen?
Customer Review:
"I love this kitchen set! I have used the different utensils so far for baking, cooking dinner, and breakfast! All the utensils are good quality, lightweight, stainless steel and have a variety of uses in the kitchen! The set has everything you need for cooking, and baking! So far we absolutely love it! Can't wait to open some wine and peel some vegetables with the fancy peeler! What a great set! I highly recommend if you need a variety of utensils in your kitchen! Great quality, durable and easy to use and clean!!"
Amazon
If you don't have a dish washer, getting yourself a dish drying rack is a smart idea to make sure that your utensils and dinnerware are nice and dry before you put them back in their respective spots. It just helps maintain hygiene and avoids infestation.
Customer Review:
"Great dish drying rack. Ive had this for 10 months, use this everyday and no issues. No mold, folds up easily, and sometimes I'm shocked by how much weight it can hold. I will buy this product again."
Amazon
This bathroom set includes a Toothbrush holder, Soap holder, Trash Bin, Tumbler and Toilet Brush. These are your basic bathroom essentials if you've just moved into a new apartment.
Customer Review:
"It's very cute"
Amazon
These break-resistance glasses are what you need if you have a lot of friends over, or enjoy the company. And hey come on, no one can have enough tumblers, right? They're always useful and come in handy. Under just $20, you get a set of 16 in 4 coastal colors.
Customer Review:
"I'm lazy. I bought these cups because I was fed up of hand-washing my 4 cup set of glasses every time I used them. So I bought a load of unbreakable acrylic cups that I could just put in the dishwasher and run it when I was ready.
Pros.
The cups are sturdy. No flex, they wash well in the dishwasher (top shelf) and they have a pattern to them so they are easier to grip when wet.
They stack, so they don't take up a ton of room in the cupboard.
They are pleasantly colored.
They are USA made.
No chemical smell, no staining (with constant use for iced-tea)
They are light.
Cons.
I can't think of any, not even a small one."
Amazon
Now that you're moving into a new apartment, how about investing in a fresh set of towels? We're supposed to change them once every few months anyway, so how about you take that chance today. These are 100% Turkish cotton, so premium quality is guaranteed.
Customer Review:
"I am very pleased with these towels. They are very soft, heavy and a quality towel. I've washed them at least 5 times and they are as good as new. I bought pink and I'd say the color is a medium salmon color not true pink but I haven't been able to find a quality pink towel anywhere. Someone mentioned that they shed, but only in the dryer. They haven't left a bit of material on me or anywhere else. I would highly recommend these towels."
Amazon
Moving into a new home, means a lot of work in the house has got to be done with respect to fixtures and handyman jobs. If you're someone who's into DIYs and would rather do it yourself, here's a tool set we highly recommend. It's always good to have spare tools at home, you never know when you'd need 'em.
Customer Review:
"I bought this as a "stealth" kit to keep hidden away for those exasperating moments when you realize someone who used one of the "real" tools didn't put it back–or that your battery-powered wonder has finally given up the ghost.
However, this little kit has been so handy and performed so well it's become my go-to for all but the largest projects. No problems to date with the durability of the tools or case–just convenience, variety, and reliability in a discrete, easily hidden package. ;)"
Amazon
Just as you start assembling and decorating the interiors of your house, don't forget your threshold and get your apartment the basic outdoor utility item, a doormat. This one says 'Hello' and is very welcoming!
Customer Review:
"I love the contemporary look of this welcome mat and it's a good size for our front door. It also does a good job picking up debris and dirt from our shoes/feet before coming into the house."
Amazon
Again, needless to say that a shoe-rack has high-utility and since you're moving into a new home, you might need one. If you don't have the space for an extra closet just for your shoes, this freestanding rack is not only durable, but does the job well enough.
Customer Review:
"Awesome! After several hours of researching different shoe rack options to fit my closet and reading many reviews this was the best option. Especially because it's expandable. Super easy to assemble all you need is a Phillips head screw driver and 10 min. Well it took me 10 min. Super sturdy! Most importantly what I wasn't seeing in reviews is that it fits my heels. I wear 4-5 inch heels and they all fit perfectly on all three tiers. Black shoes shown are 5 inch . it's great that I can walk in my closet and actually see all my shoes making it easier to pick out an outfit for the day!"
Amazon
The best of its kind, this robot vacuum will make your cleaning vanish with a poof. It has quiet operation and increased suction power at 1300Pa. It can easily vacuum for up to 100 minutes** on hardwood floors with noise no louder than an operating microwave.
Customer Review:
"Cleaning power: This thing sucks… It's suction is much stronger than my Roombas have had. It picks up so much dust and pet hair. We do a full vacuum every other week with my Dyson, so I think of the robot vacuum as a supplemental vacuum. I was shocked at how much was in the dustbin after it's inaugural cleaning! The picture attached to this is from that cleaning. It also gets a ton of dust in the little dust filter."
Amazon
How on Earth will you cook without this cool 12 piece kitchen pots and pan set? The color is vibrant, the utensils are made of top-notch quality and will make a good addition to your new apartment's kitchen.
Customer Review:
"I waited to review until we used all the pots and pans multiple times. These are great, easy to clean, durable and are a nice shade of purple! Follow the instructions and you will have no problems. Would purchase them again!"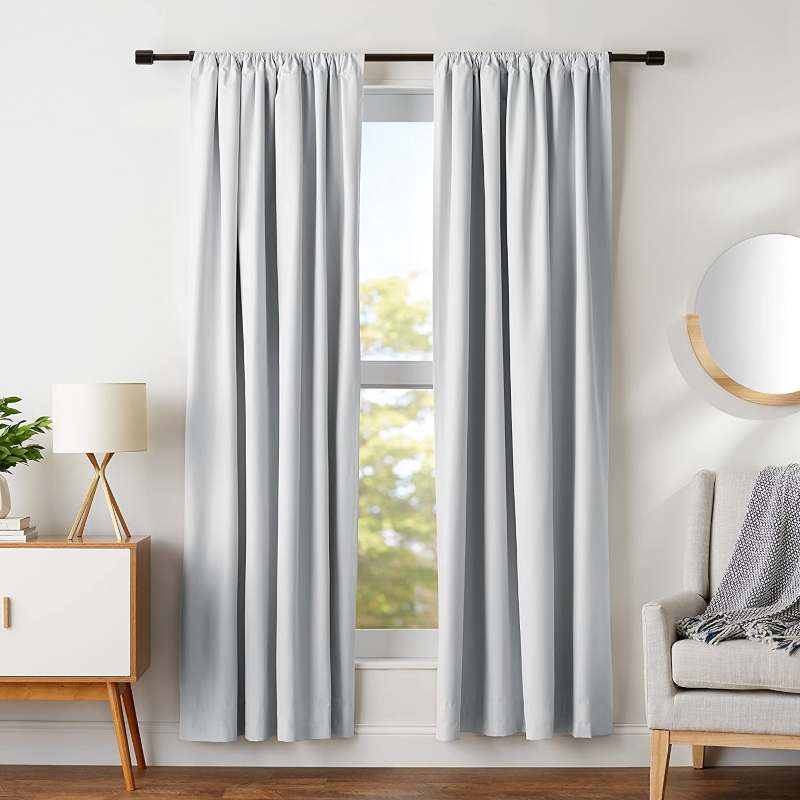 Amazon
You know you gotta darken your room out to get in that delicious nap, right? These solid-colored curtains will help you do just that. They are thick, opaque and block out sunlight and harmful UV rays, reduce outside noise, ensuring total privacy. What more could you want?
Customer Review:
"Once you put these bad boys on your window, the room will turn into a black hole of darkness that will engulf both soul and body. I cannot even describe the room I was in as black, it was a much deeper, almost boundless effect. Sensory deprivation will set in within minutes. You will lose all sense of what is up and down and feel like you are floating in deep space."
Now that you have these products to get your house all started up with set-up and decor, what are you waiting for? Get you card, relax over the weekend and shop on!
Related Articles:
20 Things To Organize Your Bathroom With And Hail Your Inner-Monica Geller
19 Products To Level Up Your Work-Desk Aesthetic And Organization
We hope you love the products we recommend! All products featured on Munchable are independently selected by our editors. If you buy something through our retail links, we may earn a commission on the sale. Oh, and FYI — prices are accurate and items in stock as of the time of publication.