Do you think that productivity and workplace design is only for the Instagram world? A study by Herman Miller found that workplace workplace design had "a small but consistent and real influence" on workers' performance—increasing productivity as much as 16% and job satisfaction by 9%! A neat, organised and minimalist desk keeps our mind clutter-free as well. With just a few adjustments, you can change your work space to an inspiring one where only magic happens! Here are 19 things to organize your desk with.
Amazon
Looking to clean up the clutter on your work desk? Why not do it in style with this assorted gold 5-Piece Desk Accessories organizer!
Customer Review:
"Im very glad i bought these. I was hesitant because they were so cheap but figured it was worth a shot. I recieved them in a timely manner and in perfect condition overall. The only problem is one of the containers is bowed a bit but it actually stays put just fine. They look wonderful on my desk and give it just enough personality without being over the top. Absolutely a must purchase if you like them. "
Etsy
This is a beautiful personalized pen-stand that'd make a great addition to your work desk and station.
Customer Review:
"It's so adorable!!!! Love the color combinations as well!!! Also… rose gold is now becoming one of my favorite color"
Amazon
Soft boards and pin-boards are so old-school. Wire boards are the new in-thing and if you want to stay on top of it with organization and getting sh*t done, these will help you place your to-do lists, calendars and memos right before you, in style.
Customer Review:
"This was just the piece I needed for my command center. It comes with two wire pieces, but as you can see I only used one for my small space. My husband used the other piece in the garage for his tools."
While you're curating your workspace essentials, this cool illustration by Zapier will help you get a "bird's eye view of some of the most important elements in a healthy and productive office"
Amazon
If you're someone who tends to take a lot of calls and likes to multi-task, this phone-stand is only going to do you good. You don't have to strain your neck looking down at your phone and you can also look at your notifications at eye-level. It is also available at a steal of a discount right now, so grab it while the offer lasts!
Customer Review:
"Love this stand. It works great on my desk. My favorite part and the reason I chose this stand over others that are similar was the place for the charging cable. You do not have to disconnect the charger to remove this phone from the stand. The design allows you to pick up the phone from the stand with the charger still plugged in. Others do not have an open top. "
Amazon
Nothing adds to the aesthetic of the desk more than a lil greenery. If you're afraid to commit to real plants, here's a small set in picket fence that you can place in the corner of your desk.
Customer Review:
"This is a cute assembly of artificial succulant plants and very well packaged and presented. Thank you. It is a nice addition for any mantle or desk."
Amazon
It goes without saying that we need a mouse pad on the work desk if we're using a mouse. How about you get one that looks good and works just as well?
Customer Review:
"Very pretty mousepad and the round shape works perfectly in the space I needed to work in. I'm very happy with this purchase."
Amazon
Trust us when we say this; this footrest is a must-have for your work desk whether you're currently working from home or from your office. It helps correct the posture and also is just so damn comforting! Do not suffer for nothing…
Customer Review:
"I really like this footrest pillow. I love the feel of the memory foam and the fact I can remove the cover and wash it. This footrest is multi-use for me. I use it at my desk to elevate my legs/knees which alleviates leg and back pain. If I have to sit for long periods of time I use it upside down to rock my feet which helps to improve circulation. "
Amazon
If you haven't already, it's time you invest in a work desk that is right for you, minimalistic and that which doesn't occupy a lot of space just like this one.
Customer Review:
"I have been looking for a white and gold desk for awhile. The ones I came across were either not the style I was seeking or they were too expensive. So happy I came across this desk last week. I am very impressed with it. I love the white marble look. It was easy to assemble. Plus, the desk has plenty of space on it."
Amazon
A cluttered desk is a sign of a cluttered mind and does not really reflect well on you. Keep the clutter out of your desk and mind with this minimalistic rack that'll help you keep your things well within reach and organized.
Customer Review:
"I love how fantastic they look! I bought them because my tiny office cannot hold bookshelves or cases and I knew I needed storage space that went up instead of just surface area. My desk is quite narrow as well and I was losing precious working space. Putting them together was very easy. "
Amazon
At first glance, you will not know that it's a humidifier, quite obviously. It provides humidification for up to 4 hours and doesn't need water added to it frequently. Enjoy a pleasant environment with this choo! choo! humidifier.
Customer Review:
"The most adorable little humidifier. Bought this for my desk at work and it is perfect. I guess I didn't read the description close enough where it says it makes train noises, but it just makes it cuter. The vapor part worked great. So happy I bought this."
Amazon
Uncomfortable chairs are not an option, especially with routines going for a toss, sitting at home. An ergonomically sound chair that gives you proper lumbar support for your long working hours is a non-negotiable. Here's a leather swivel chair you could go for. It is available at an amazing discount right now.
Customer Review:
"Such an amazing chair. Really comfortable, looks great and was easy to put together. I used a drill and an allen wreck bit so it took around 15 minutes."
Amazon
These faux plants are great for being placed indoors to up the aesthetic of your spot. And hey, your work desk could always use some leveled up class, dontchya think?. Place it next to your table or on it if you have enough room.
Customer Review:
"Pots arrived within a couple of days of ordering and they came carefully packaged. I love the modern look! I have been growing a lot of house plants and own many many pots that I bought from TJ Maxx, Ikea, Target, etc. These pots are definitely one of my favorite pots. Both are good size for house plants and the gray and gold accent adds to the modern feel."
Amazon
Yes, it is slightly boujee, yes it is also very convenient and safe, so why the hell not! Get yourself a mini-fridge that you can place next to your desk and keep your beverages, yogurts and meals within your arm's reach. Brilliant, isn't it?
Customer Review:
"This little guy is the best! It is virtually silent. The reviewers that said the noise was distracting need to send theirs back, because mine is absolutely silent with the exception of a very, very gentle whirring that you could hear only if you put your ear right to the back of the fridge. We keep it in a spare room, and people say it causes no disturbance at all when they sleep."
Amazon
And then Amazon said, let there be light! How cool does this industrial lamp look? It is sleek and minimal, so if you're looking for a work desk lamp, this is it!
Customer Review:
"This is great because it doesn't feel cheap. It's great quality for the price, and it came in 2 days with the free shipping. I actually purchased the marble one and the wood one in October but wanted one for my bedroom."
Amazon
When one's at their desk working, it is always good to keep a track of time to make sure you're on top of things and your tasks are getting done on a timely basis. This also helps you stay organized and use your day effectively. Here's a classy alarm clock for your work desk.
Customer Review:
"Very cute little alarm clock. I was worried that the white lights would not be visible against the white marble background, but as u can see by the pictures- that isn't a problem."
Amazon
This desk pad will help your section your work desk and allow your keyboard, mouse, and some writing stationary to rest on it. It compartmentalises your immediate workspace for you which is great for productivity.
Customer Review:
"Working from home full time meant I needed to upgrade my area. The colors are vibrant and match my aesthetics with mint green. It's a perfect size (not too big, not too small) and I love that it not only protects my desk but also doubles as a mousepad. Definitely would recommend it if you are looking for something like this."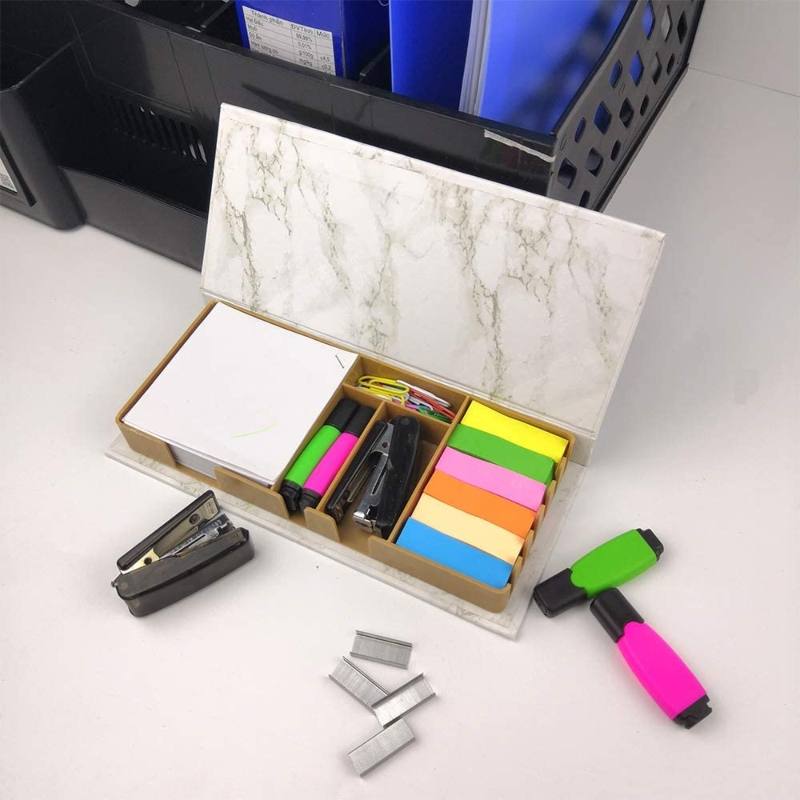 Amazon
This little kit on your work desk will optimize your productivity and is a must-have on your work desk because it's good to have sticky notes lying around to take important notes and put down reminders.
Customer Review:
"Very cute and everything you need for an office."
Etsy
These are absolutely stunning coasters that'll add to the aesthetic of your work desk and also be of use; 'cause let's admit it, no one likes wet rings from beverages, right?
Customer Review:
"Simply beautiful clear agate coaster. Luxury!!!"
Amazon
Again, convenience and effortlessness are why we're recommending you this pen stand for your work desk. It's good to have your stationery at arm's length right before you.
Customer Review:
"I needed something at work to quick access to my markers and short ruler and this product did the job. Sticks to one of my monitors and never had any issues with them coming unstuck."
Your work desk is like your temple of productivity and these items are sure to elevate it for you.
Related Articles:
2021 Calendars And Planners That You'll Need To Organize Your Life!
25 Cool Tech Gadgets To Get For Someone Who Has Everything In Their Life
20 Must-Have Games For Adults For A Fun Game Night
We hope you love the products we recommend! All products featured on Munchable are independently selected by our editors. If you buy something through our retail links, we may earn a commission on the sale. Oh, and FYI — prices are accurate and items in stock as of the time of publication.