A grad student in Philadelphia has been dropping free pizzas from his second-floor apartment window with a simple request that the customers donate money for charity, and he has raised over $30,000 by doing so.
Good Pizza PHL is not any pizzeria, it's just a 27-year-old MBA student – Ben Berman and an Instagram account. He is been making pizzas in his one-bedroom apartment since March of 2020.
Ben hopes it can bring some joy during the COVID-19 pandemic.
"I realized I could make people smile by dropping slices of pizza out my window, and that was really the original idea," He told CBS This Morning.
Ben Berman, is a Portland, Maine native and is set to graduate from the University of Pennsylvania's Wharton business school this year. But before moving to the city in 2019, Ben used to travel frequently as a consultant.
"When I got to Philadelphia last summer I started cooking a lot more and pretty quickly got into pizza," said Ben in an interview with Action News.
"When COVID started in March, I had a big batch of dough that I was ready to make for my friends. It was that week where it was clear that we shouldn't be gathering as a big group anymore."
Ben developed a pulley system to safely deliver the pizza down the window. What he now calls a "pizza drop" first started as a 40-foot rope towing a few pizzas slices in a plastic bag to his friends. Now the pulley involves a well-packed box and a full pie.
He spends three days making pizza dough, mixing up a "big batch in the first day". Then he rolls the dough into a balls and leaves it to chill in the refrigerator.
On day two, Ben said he makes the sauce and gathers his ingredients.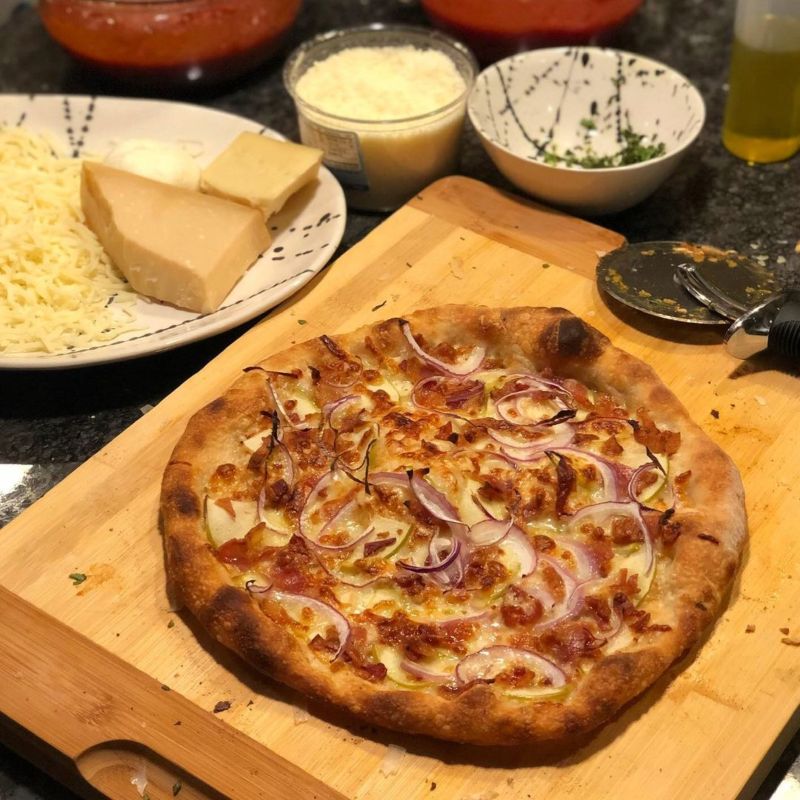 "And then the day of the actual pizza drop, people who have won the 'lottery' to come to get a pizza come outside my window," he said.
"It's just about making everything with love. I'm using really good ingredients and I'm taking my time on every pizza. When I think about my pizza, I'm thinking about sort of thin and crispy with a little bit of chew on the top crust. Not too much cheese, not too much sauce, sort of the right amount of everything. Everything gets a little bit of basil, a little bit garlic oil on the crust before it goes out, and a little note on top of the box just to let people know that they've made a difference," said Ben.
"Donations that have come in through people from all over the world, people without any expectation of ever trying the pizza," Ben said. "Anyone that donates to us, 100% of what they give is being given away."
With the increased demand for his Pizza, Ben took his mission ahead and launched Good Pizza. He now makes enough dough for about 20 different pizzas for a single-day delivery. He gives the profits to groups like Philabundance and Project Home, which are fighting against homelessness and hunger.
"I don't have many large family memories that aren't centered around food. It just has been a big part of my life," he said.
Many people have appreciated Ben for his work, including Barstool Sports founder Dave Portnoy, whose pizza reviews gave Ben a massive online following and hundreds & thousands of views.
Ben said the 24 hours following Portnoy's review were "crazy."
"I went from 150 followers on Instagram to over 10,000," Ben said. "I'm really thankful for that platform. It helped us raise close to $15,000 in that very first weekend and it really started to open some doors."
Ben is also thankful for the opportunities Good Pizza has brought him, like the ability to "connect with people a little bit, even if it's over virtual platforms."
Ben's pizza recipe has one important ingredient, love.
What are your thoughts on it?
Also Read: This Barbershop Gives $2 Discount To Kids For Reading Books Aloud