It can be quite difficult to give your partner a gift especially if they have everything in their life. We understand your frustration. But if your partner totally geeks out on everything that's tech then this list might save you! These 25 tech gadget gifts are definitely something you want to look at before selecting something for them this Valentine's Day.
Amazon
If your partner loves coffee or any cold brew then this one is an amazing Valentine's Day gift. It is the easiest, most pocket-friendly way to make your favourite iced beverages. Also, iced coffee in under a minute?! That's just perfect.
Customer Review:
"I am an avid (i.e. daily) iced coffee drinker, but I have been extremely hesitant to make my own iced coffee at home because I didn't want the watered-down nature of just adding ice to coffee. Thanks to the HyperChiller, I have now found a solution!!! The HyperChilller worked like a CHARM today!!! I was able to create my own iced coffee directly from my coffee maker in the comfort of my own home. I guarantee this item will be used frequently! Great job!"
Amazon
This one is the best wireless charger out there. Your partner doesn't have to fuss around with plugging and unplugging cables again and again. All they have to do is simply place their phone or earbuds in the center of the PowerWave Pad.

It charges mobile phones with their phone cases on.
Customer Review:

"Used with my new Samsung Galaxy S10. No problems yet, and I've had it for a couple of months. Works as expected!
I have a Spigen cover on my phone & no interference."
Amazon
Long distance partner? It can get a tad bit difficult especially if there is a time difference in the picture. This Wi-Fi cloud photo frame can quickly update your life moments, wherever you are!
And unlike others, this frame can instantly receive photos and videos via Wi-Fi. Additionally, it also offers you built-in 16GB memory!
Customer Review:
"This was a Christmas present for my mother-in-law. My wife and I wanted a picture frame so that my mother-in-law would have pictures of her grandkids. Now my mother-in-law enjoys seeing new pictures from, and of, her grandkids as they constantly download pictures for her to see. I would definitely recommend the Dragon digital frame to anyone interested in showing off their pictures at home or even at an office desk."
Amazon
It's a great way to establish a healthy sleep and wake up routine. The stimulated light and 5 different natural wake-up sounds might just help your partner be the morning person they wanted to be!
Customer Review:

"I have owned this alarm for two and a half years and still very much enjoy it. I find it is most helpful in the winter when it is still dark when I wake up, but it is a nice alarm clock year-round."
Amazon
Working long hours in front of a screen can be tiring and stressful for the eyes. This wireless electric eye massager is plain magic. It not only relieves you of eye fatigue but also relaxes you at the end of the day.
Customer Review:
"A must item in this new "normal" life as we work and learn from home and sit in front of a screen for hours. For that reason, I got this and took this with us on our recent road trip as we thought and expected eyes to get tired. Good decision! The heat works well, there is only one button that does it all. Nice massager overall."
Amazon
If you like road trips and camping then this one is a nice Valentine's Day gift. You can take this portable projector anywhere and have a nice movie date with your loved one.
Customer Review:
"This mini projector is small, almost the size of my husband's palm, but produces a quality picture and sound. It came with several accessories including a power supply, a USB to Type C cord, an HDMI cable, an HDMI to Mini HDMI converter, and a portable tripod. Pictures are sharp and color contrast is good on my dark green wall. The tripod that came with the projector is quite small and light, easy to carry, and supports the projector with the ability to easily adjust its angles. All over, this mini projector is a well-made product, in a reasonable price range and it is a suitable device to bring on a road trip or camping."
Amazon
If your partner tends to misplace or forget things then get him/her this Bluetooth tracker. It can find keys, bags, phones, and much more. It can keep a track of any item that is important. Add it to your cart, right now!
Customer Review:

"This device is very easy to install. You download the app to your phone, follow the instructions, synch the tile, all in about 2 minutes. Once you do that, pushing the button on the tile makes your phone ring, so it works both ways."
Amazon
A perfect gift for your boo if he/she is artistic, creative, and likes to jot everything down. Bamboo Slate bridges the divide between analog and digital. You can go ahead, write or draw on your favorite paper. Just press Bamboo Slate's single button to save a digital copy of your work to your devices and the cloud.
Customer Review:
"I am a note-taker. Always have been and always will be. I HAVE to put the pen to the paper to be able to retain more and I just need that feeling of writing. But everything is moving to electronic. I just wanted it to capture what I wrote without all the hassle. Enter bamboo slate! I can write on my own paper, be it legal pads or even a notebook, and then tap the button and get it on my phone.. better yet, I tap another button on my phone and it converts it to text that I can send in an email right away. It's awesome!"
Amazon
Does your partner love dressing up? This sensor mirror will allow them to look flawless and ensure that their eyeliner is on fleek.
Customer Review:
"I LOVE this mirror! I purchased my Simplehuman 8" Sensor Mirror over a year ago, and I would highly recommend it to anyone. I love the automatic sensor and have had no issues at all. The 5X magnification is just the right amount for me. I use the mirror multiple times daily, and I appreciate the lighted band that turns red when a simple charge is needed. This product has far exceeded my expectations!"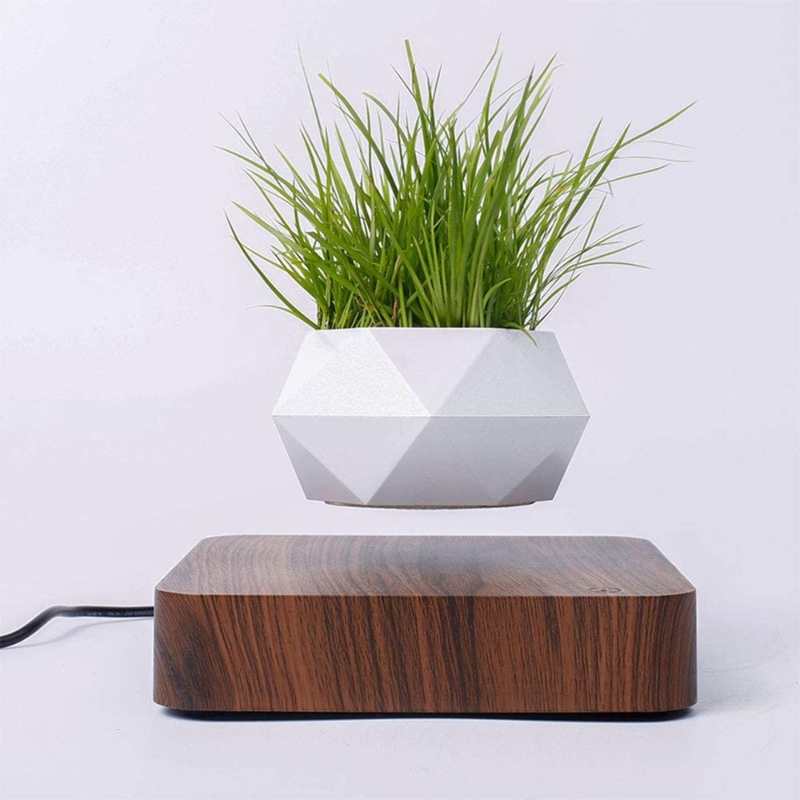 Amazon
We all love surprising our loved ones with unique gifts and this magnetic levitating flower pot is going to leave them awestruck! A decor piece that is truly exisquite and makes its presence known. If your partner loves collecting distinctive pieces then this one is just perfect.
Customer Review:
"When this item was delayed in shipping from the manufacturer –not surprising, as we know, during the pandemic—the seller was wonderful about keeping me updated and then joyfully announcing its arrival. It was on my doorstep well before Christmas. The levitating pot is delightful and the second I have purchased. This was less than half the price of the first. I highly recommend both it and the seller."
Amazon
Whether you accept it or not, candlelit dinners, slow music, and lovely calming fragrance scream romance. And if you are planning on doing a classic Valentine's Day theme, this gift will be a sure winner.
Customer Review:
"It is unusual and the colors are beautiful. (7 colors all together, with wonderful 3-D effects.) I couldn't wait to start it up. It is ultrasonic, so does not heat up, or "scorch" oils. -Just a nice "mist" and scents flows thru the room. Well laid-out instructions and a quality product. Obviously, the manufacturer cares about their product and the product seems to be of quality. I will be ordering more from this company. If you're also looking for a great gift to give another, look no further!"
Amazon
Some people drink their coffee when it's piping hot while others like to take their own sweet time with it. And most of the time, it ends up getting cold. If your partner falls into the latter category then this quick-plug mug warmer is a perfect gift. It will keep their beverage hot long after they brew it, so they can stop drinking it cold every time.
Customer Review:
"I have used several types of coffee warmers and I was beginning to lose hope that I'd ever find another that really kept the coffee hot. I like HOT coffee! This warmer is awesome and I can only hope it lasts! Been using it for a month now and so far, so good! Yay!"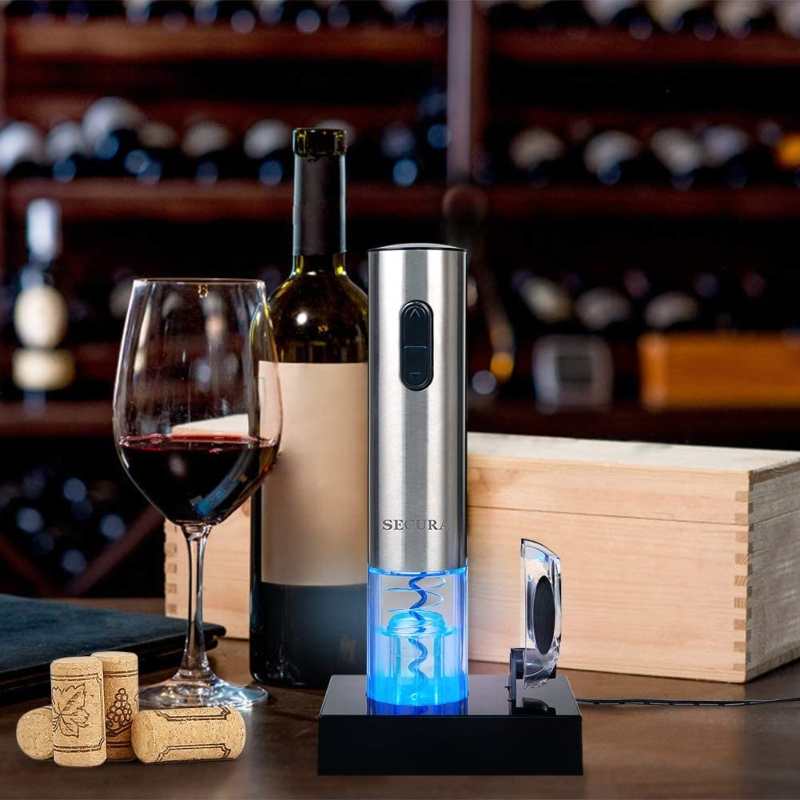 Amazon
Hosting parties just got easier with this electric wine opener. It removes the corks easily in seconds. All you got to do is place the opener on top of the wine bottle, press a button, and tada, your wine bottle is open and ready to serve.
Customer Review:
"Bought this bad boy gadget for work. I've had it at work for over a month now and opened 1000s of bottles of wine with ease with it. I haven't had a cork break off or any cork in the bottles since I purchased it. If the motor had gone out after 100 bottled I would have called it worth my money but it's still working 1000s later."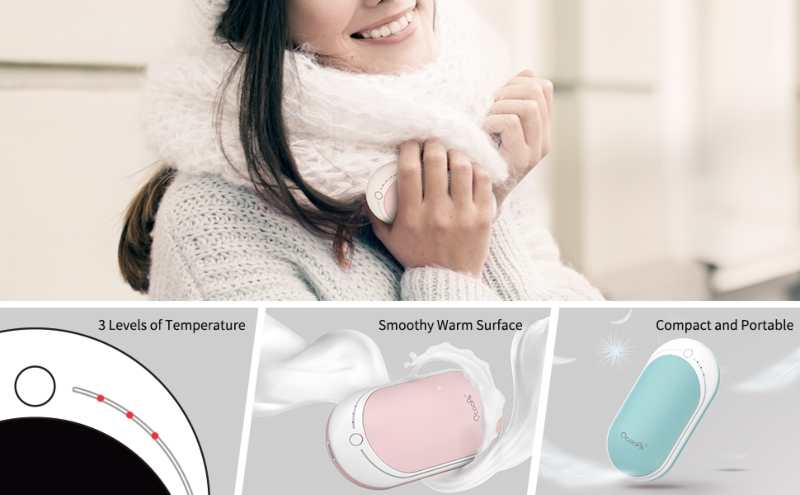 Amazon
Perfect for winters and for someone who is always cold. Whether the office's air condition is always on blast or there's a hailstorm, this hand warmer gadget will be your boo's best friend.
Customer Review:
"Better than the pictures and more useful than described. This little gadget is way more than a simple hand warmer. The uses are endless."
Amazon
Clean, neat, organized – If these words describe your partner then there's nothing more romantic than a label maker. This device can be connected via Bluetooth and supports various texts, numbers, graphics, symbols, logos, barcodes, QR codes, etc. Who said organizing isn't fun?!
Customer Review:
"I'm obsessed with this gadget! I bought clear tape in addition to the white tape that came with it. It is so easy to use the app to customize every aspect of your label. The tape also sticks very well. They turned out great!"
Amazon
Applying makeup can be fun but cleaning up can be a difficult task. Brushes are the essential tools in makeup and you have to clean them from time to time. But what if we said that we could cut down that time by half? Get this makeup cleaner and your partner's brushes will be cleaned and dried within seconds.
This gadget set comes with a brush spinner, charging station, eight rubber collars, a glass bowl, a bowl splash guard ring, a manual, and a 140-milliliter bottle of the makeup cleaning solution.
Customer Review:
"Didn't even need to read the directions to figure out how to use it, it's pretty straightforward. It is smaller than I was expecting, but it's for makeup brushes so I should have known it wasn't going to be very big. Do not spin the brush in the water. You dip the brush, lift it from water, then spin it. Over half my brushes came out entirely dry after spinning, and it cleaned my brushes perfectly considering I use my brushes for body paint. If you're thinking about it, get it."
Amazon
Fashionable, stylish, and high on utility, this bracelet charger is a perfect accessory for someone who likes to travel light.
Customer Review:
"If you are looking for gadgets that help minimize travel bulk, while also not looking like a tourist, this product is for you. This bracelet looks lovely. The braided leather is tasteful and does not appear to be anything more than a nice fashion accessory. The charging component works perfectly and is very easy to use, albeit it is a very short cord. While this cord may not work in all situations, it might just be enough to get you charged up while on the go."
Amazon
Love all things retro but you are stuck with modern convenience? Bam. A Bluetooth-enabled record player. You can listen to retro songs and enjoy all the modern convenience of being able to use it anywhere.
Customer Review:
"This thing is great! The output is great. Very loud and clear with no distortion. I put the first record on it this morning and the audio quality and overall functionality is awesome. It also makes a great Bluetooth speaker as well. The briefcase design makes it great for moving it room to room or traveling places with it. I highly recommend this turntable to both the beginner who's looking to get into vinyl and even the hardcore collector that's just looking for something more portable with some good sound!"
Amazon
While wine is an amazing drink it can get oxidized pretty soon. With this preservation system, it will allow your partner enjoy a drink without worrying about wasting the bottle. The Coravin wine system gives them the freedom to pour any wine, in any amount, without removing the cork. Talk about amazing technology in a gadget.
Customer Review:
"So, I was so excited to be able to finally get this. It's pricey but was able to get everyone to get me gift cards for my bday so I could afford it and so far I love it. I love to drink wine, but I end up drinking more than I really want to because I don't want to waste a bottle so now with this I can have a glass without having to drink it within the next couple of days."
Amazon
On average, a woman spends 76 days looking for items in her handbag. Sounds shocking, doesn't it?
The Wasserstein handbag light will automatically light up the handbag without pressing any buttons. Add this extremely useful gadget to your bag, right now!
Customer Review:
My mom complains every day about how difficult it is to find things in her purse. Her keys fall to the bottom and her wallets blend into the inner fabrics. Since gifting it, she clipped it to the inside of her bag and has just let it do it's job. This is a bright white light (not yellow or soft), and it does an incredible job illuminating the inside of her purses. It's not excessive or fancy, but this thing packs a serious punch. If you need that extra light in a pouch or bag, I cannot recommend this enough!!!"
Amazon
If your partner loves craft beer then get this one as a Valentine's Day gift. The Sonic Foamer makes beer taste better with a touch of a button, using a finely calibrated, ultrasonic vibration for the perfect foam head.
Customer Review:
"Works as advertised, used it quite a few times now. Seems to bring out the flavor of craft beers, to me at least. You can see it work, press the button and it gets bubbly. Kinda the same idea as letting a beer breathe but it takes seconds instead of minutes."
Amazon
Perfect for capturing life-changing moments on the go. Turn your selfies, portraits, social media posts & other images into physical photos! This mini printer can be paired with any smartphone without any hassle. And not just that, you can customize the pictures as per your liking! A pretty cool gadget, we might add!
Customer Review:
"Just got my Kodak step in the mail and couldn't wait to try it out. Set up was a snitch and it synced to my phone in no time flat. Prints came out beautiful and quick. So happy I have my own printer, now I can print photos whenever I feel like instead of driving to the store. Total printing freedom."
Amazon
For all the couples who have incompatible body temperature, this one can save your relationship. Meet the mediator – A dual-zone comforter. With two temperatures setting in just one comforter, you and your partner can now sleep well without fighting about the cold/hot.
Customer Review:
"The first thing my SO and I did when we unboxed this beauty was to build a fort while we were snowed in. A komFORTe. Great structural integrity, reliably fastens to a number of things lying around the house. 10/10 would build again.
The second thing we did was see if the comforter behaved as intended. We've been fighting nighttime temperature imbalances from day one. The comforter isn't perfect, but it helped."
Amazon
Need a beautiful night light and a charger? You got it. This glow in the dark charger has a blue led light that brings fun to the ordinary charge. Why didn't we know about this?
Customer Review:
"The size of the product is small and lightweight, very convenient to take it for long-distance vacations. Also, the plug of the charger is foldable which prevents any scratched damage to my bag. The fun part about the charger and USB cable is that it came with LED lighting, which is awesome! I have never seen it before. I really love the idea of it, very creative Momen, you nailed it! Might consider to do another purchase with this brand."
Amazon
Support your partner's fitness goal with this smart scale. And no, this doesn't just measure weight. Arboleaf digital smart scale can tell you 14 essential body composition data including weight, body fat %, body type, visceral fat, body water %, muscle mass, bone mass, BMR, BMI, metabolic age, protein, subcutaneous fat, skeletal muscle, and body weight.
Customer Review:
"First, it's a beautiful scale. Very sleek look. The top is a glass covering, making it super easy to clean. The numbers are a bright white LED. It is awesome that it can connect via WiFi or Bluetooth, however, I have only used the Bluetooth function. Even if my phone isn't connected, the scale saves my information and uploads it to the app when it connects later. I especially like that it syncs the info to my FitBit app Very cool to have all my weightloss goals and activities in one place on FitBit. The measurements are very accurate, I compared them to the scale at my gym and doctor's office. It also allows up to 8 user profiles to be set up so my whole family is able to benefit from it."
We hope you love the products we recommend! All products featured on Munchable are independently selected by our editors. If you buy something through our retail links, we may earn a commission on the sale. Oh, and FYI — prices are accurate and items in stock as of the time of publication.
Also read: 31 Valentine's Day Gifts For Her That Will Make Her Go 'Awwwww!'
30 Valentine's Day Gifts Under $50 That Are Totally Worth Every Penny