The most wonderful time of the year, thanks to the coronavirus is a little different now. It's no wonder that many are looking to get away safely after months of hunkering down. Whether you are looking for an inexpensive weekend escape, a singles' gateway, or hoping to find an unforgettable Christmas holiday that the whole family would love, you should definitely check out these 10 places.
1. Hershey, Pennsylvania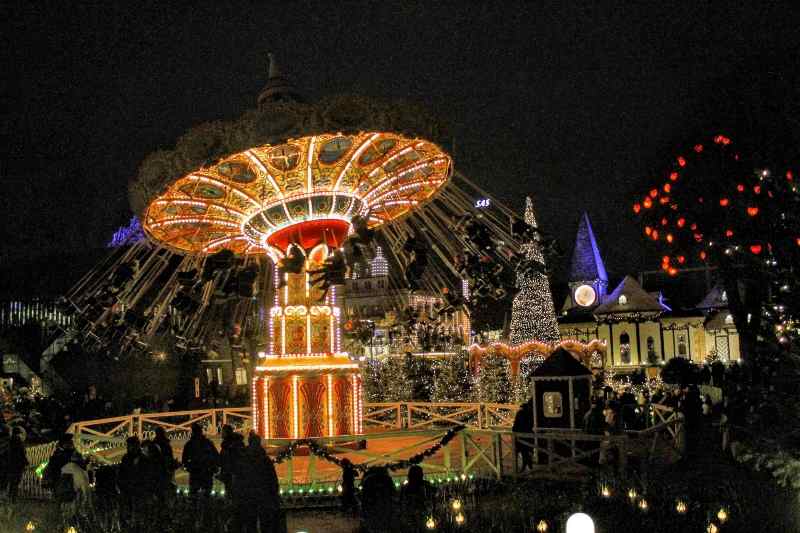 Why not finish off with a large dose of chocolate this year? Yes, please! Hershey Park, the chocolate wonderland, is open and is the ideal place to have a Christmas break. Hershey Park, located in Hershey, PA, offers a chocolate-themed dream trip that builds holiday memories with oodles of rides and activities.
The park provides a dazzling light show on Christmas cheer, visits from Santa and his nine reindeer, festive shopping, and special holiday freebies. To enjoy them all, schedule your Christmas vacation between November 13th to January 3rd.
Please note that Hershey Park conforms to the relevant regulations of COVID. All visitors over 2 years will have to wear face masks, and the guest spacing will be controlled.
2. Asheville, North Carolina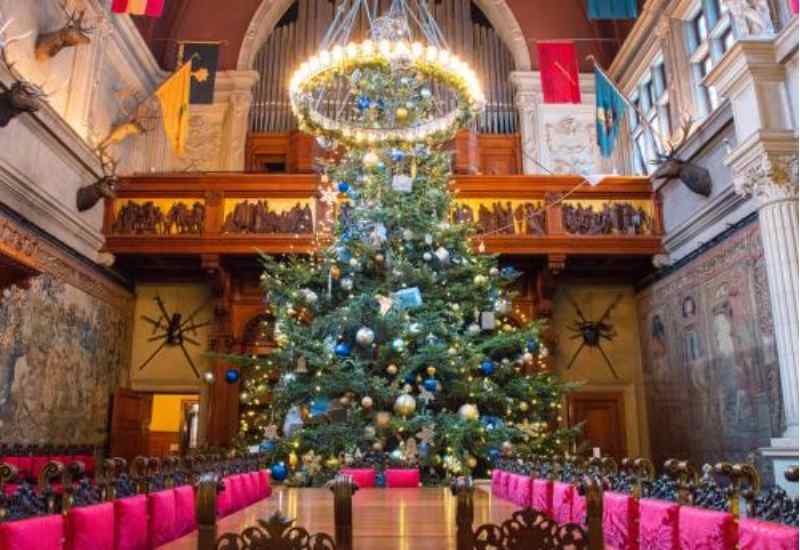 Sign up for a whopping dollop at North Carolina' Biltmore Estate in Asheville if you're up for an American Christmas holiday. Known as the Biltmore Mansion, it is the United States' largest private residence.
The home was designed between 1889 and 1895 by George Washington Vanderbilt II, and it's also steeped in the spirit of Christmas. Every Christmas Eve, it was a long-standing tradition of the Vanderbilt's to open their home to friends and relatives.
Luckily, these days it is less exclusive and everyone from the public can come to see the extravaganza of the holiday. Christmas decor is glamorously draped over the Biltmore House and Antler Hill Village, throughout the Village Hotel and The Inn, winery, shops, and restaurants.
About 100 decorated trees, 10,000 ornaments, and 100,000 twinkling holiday lights will be used in the show this year. After enjoying divinely crafted holiday experiences for a truly unforgettable Christmas break, guests may also stay overnight. The 2020 Biltmore Estate holiday decor and activities are currently scheduled from November 6 till January 9, 2021.
Please note that the Biltmore Estate currently only allows small with reservations in compliance with the COVID ordinances. Face coverings and six-foot social distance are mandatory. Besides, the entrant is advised to carry their belongings in a single, lightweight, clear plastic bag.
3. Woodstock, Vermont
Elegant Woodstock Inn & Resort bills itself as "Vermont's most beautiful address" and, indeed, it lives up to the name, with a picture-perfect stay for couples. Activities include cross-country skiing and snowshoeing, and festive, farm-fresh holiday dinners. There are also countless B&B options.
4. Orlando, Florida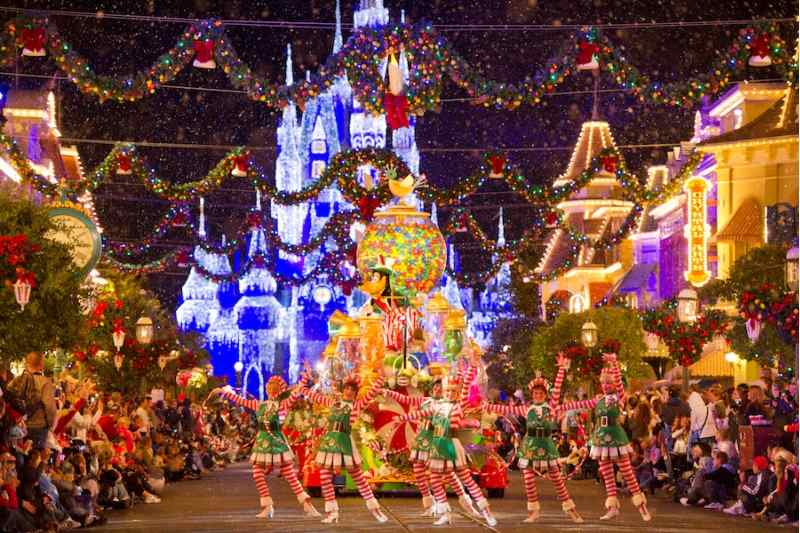 In Orlando, Florida, Disney World delivers during the holidays, and there will be no exception to the rules in 2020. With restricted tourist space and unique social distancing factors, the park reopened its doors to the public.
Though activities are planned and a Christmas holiday is entirely possible, not all aspects can match the previous year's celebrations. Mickey's very famous 'Very Merry Christmas' party has been cancelled for 2020.
It is still not clear if annual events will take place, including the Epcot International Festival of the Holidays, the Once Upon a Christmas Parade, A Completely Tomorrowland Christmas, and Minnie's Wonderful Christmas Fireworks Display.
It is still not clear if annual events will take place, including the Epcot International Festival of the Holidays, the Once Upon a Christmas Parade, A Completely Tomorrowland Christmas, and Minnie's Wonderful Christmas Fireworks Display. Due to the pandemic, Disney World has closed a few of the events. It's best to call them or check their website before planning this trip.
Disney promises to keep the joy of the season alive. The usual festive ingenuity will be popular in the resort, including décor, snacks, and holiday entertainment. The decor and celebrations for the holiday have already begun on 6 November and will go on till 30 December.
5. Omaha, Nebraska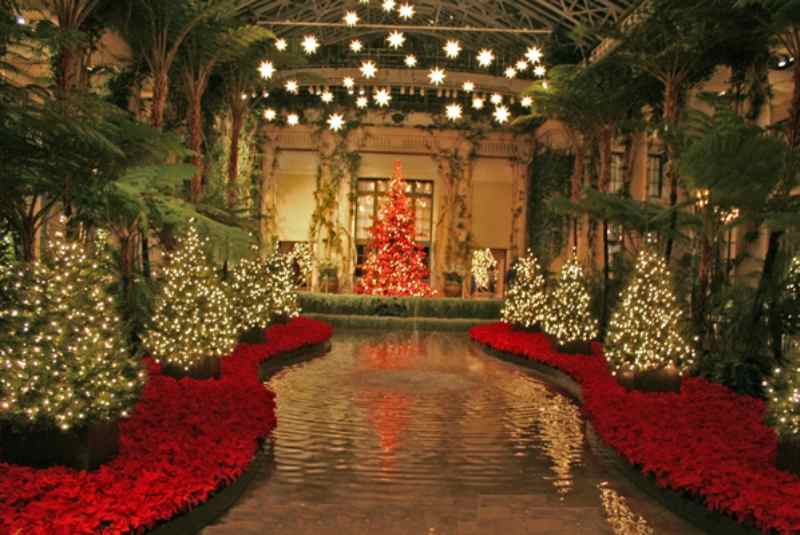 For the holidays, there is no place like home! And, maybe there is no better cheer than what the MidWest found.
Omaha's holiday fame is the spectacular Holiday Poinsettia Show. And indeed for the Christmas 2020 holiday season, it is still on. Among over 5,000 additional poinsettia plants in 20 varieties includes an indoor show 20-foot-tall poinsettia tree. Also, they have featured events like, It's a Wonderful Life at The Rose Theater, Santa's Wonderland At Cabela's and many more. You can check all the ongoing events here for family fun in Omaha.
Please note that many events require pre-registration, have limited capacity, or offer timed slots. As things continue to change during this time, it is highly recommended to verify details, closures, cancellations, hours of operation, and any requirements or procedures for guests before visiting.
6. Newport Beach, California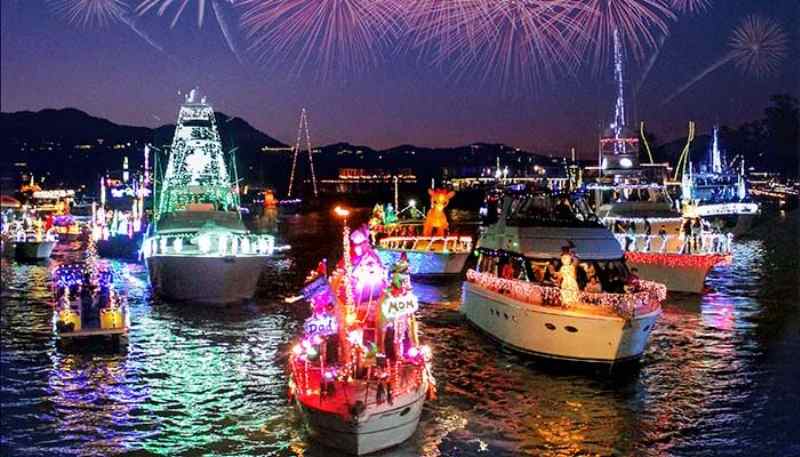 While Southern California might not seem to be the most Christmas-y destination but Newport Beach, a small harbor town, might surprise you!
The Newport Beach Boat Parade has become an unlikely symbol of the Christmas spirit with an annual festival over a span of 100 years. And this mostly outdoor celebration could be this year's ideal Christmas holiday. 2020 won't stand in the way of the twinkling boats and homes on the bay.
The festival of lights and celebrations last for 5 nights and includes a dazzling harbour laden with decked out boats, yachts, and cruise ships. Plus, the surrounding neighbourhoods participate in a residential holiday light display. The city even puts on fireworks, plus many restaurants, bars, shops, and hotels feature special holiday-themed surprises.
The Newport Beach Boat Parade is scheduled for Wednesday, December 16th-December 20th, 2020.
7. New Orleans, Lousiana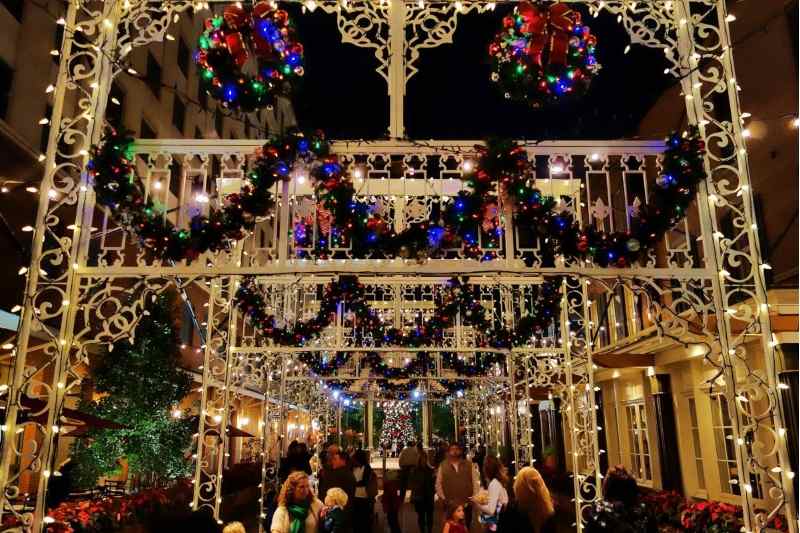 While many annual New Orleans celebrations have been cancelled this year, this year the city still promises a good Christmas celebration.
A few traditions are still guaranteed like seeing the Christmas Eve bonfires on the levees. More than 100 bonfires made with a special ladder or cabin design are combined with the spectacle strings. After enjoying the city's dazzling light displays and bonfires, be sure to check out Celebration in the Oaks, which is said to be one of the most spectacular holiday lights festivals in the country.
8. Solvang, California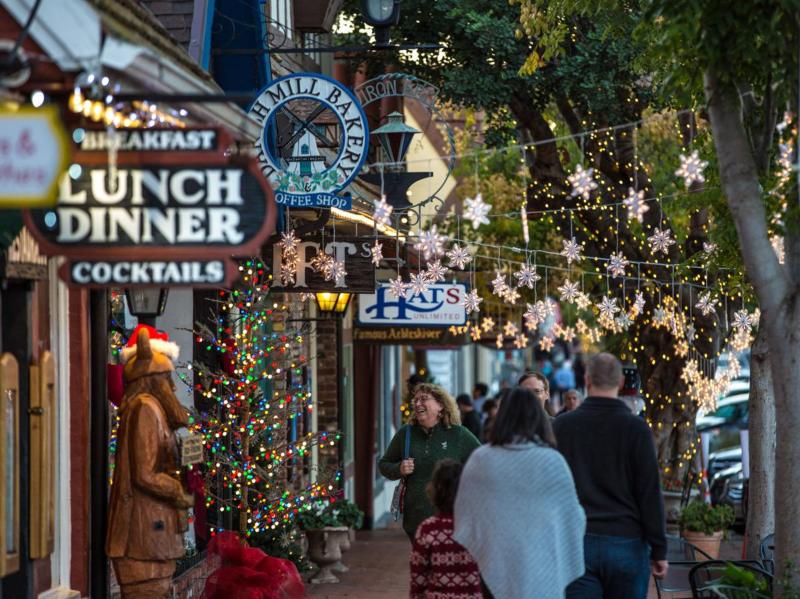 You might not be able to wander the charming streets of London or Munich this winter, but you can get that European feel here in the United States.
Solvang typically hosts Julefest each holiday season, complete with festive events and decor — check the city's website for updates about this year's celebrations. You can also choose to stay in one of the city's beautiful boutique hotels, like The Landsby or the newly opened Winston.
9. Sea Island, Georgia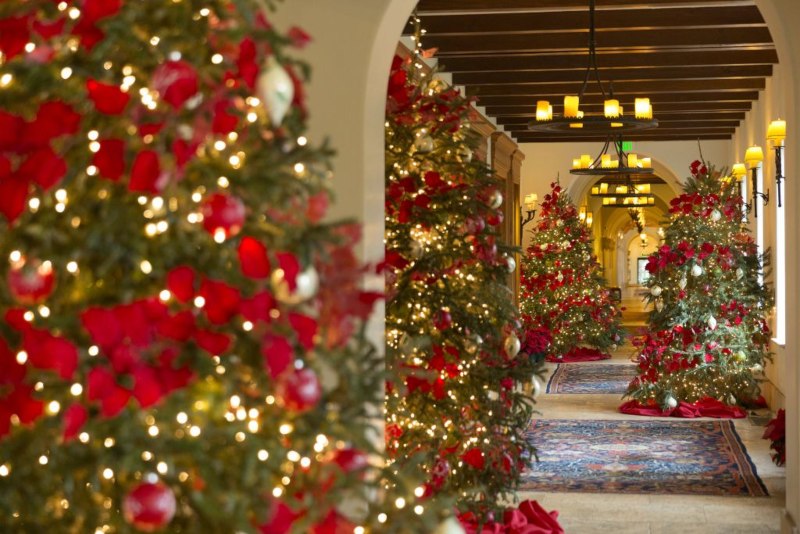 For a Southern-style Christmas, look no further than the luxurious barrier island of Sea Island, Georgia. A charming coastal retreat, Sea Island is totally family-friendly and chock-a-block with events and celebrations during Christmas. Visitors can expect to merrymake like story-time with Santa's elves, a life-size gingerbread cottage, a rein dog parade and children's Christmas party at the Beach Club, and family-style Christmas Eve dinner in the Cloister Ballroom.
The Cloister at Sea Island is an amazing place to choose for your stay. It has an elegant retreat with the very best of Southern hospitality, featuring Georgia's only Forbes Five Star restaurant, a beach club with five miles of private beach.
10. Aspen, Colorado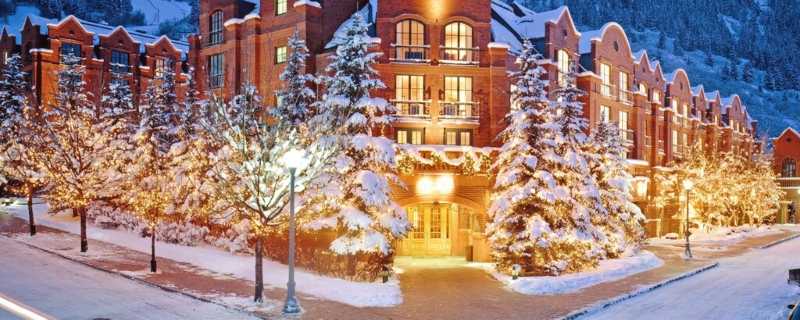 Looking for the perfect winter getaway this Christmas? This stunning ski resort town is a well-known paradise for ski bunnies and touring enthusiasts. Also, it holds plenty of Christmas activities during the holiday season, including an annual tree lighting, a fun-packaged "12-days of Aspen" and shows like the Nutcracker at the Opera House.
11. Oahu, Hawaii Island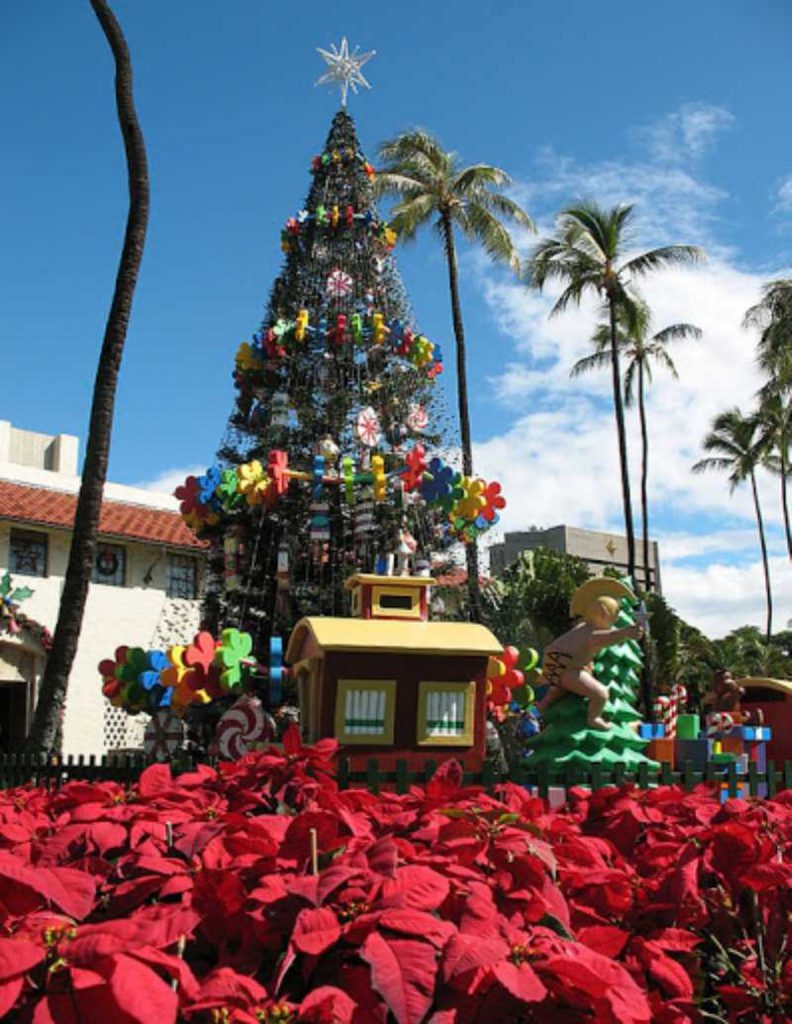 Oahu in Hawaii is another incredible holiday destination. This is one of the best options if you want to get away from frigid zones in December and enjoy a delightful, tropical Christmas. Add a pina colada to your hands, and the picture is complete! Other than the difference in weather, you can enjoy all the other Christmas staples, like hot chocolate, carolling and opening presents under a beautifully decorated tree. You can check all the events going on this month.
12. The Bahamas

The Bahamas are an incredible place to enjoy a holiday period. Now, add Christmas to this mix and it is the cherry on top of an incredible cake. If you come from a cold place and want to get away from the December chills, this island is the best place to rejuvenate and get some precious vitamin D. You can also take a boat ride or go snorkeling in the incredible waters.
The great thing about the Bahamas is that it is perfect throughout the year for tourists from all walks of life. This means that you can find hotels of all ranges. In the Bahamas, Christmas is celebrated with carnivals and festive activities. They have also adopted many of the same traditions and customs of other countries. Visit bahamas.com to check their event calendar for Christmas 2020.
13. Jackson Hole, Wyoming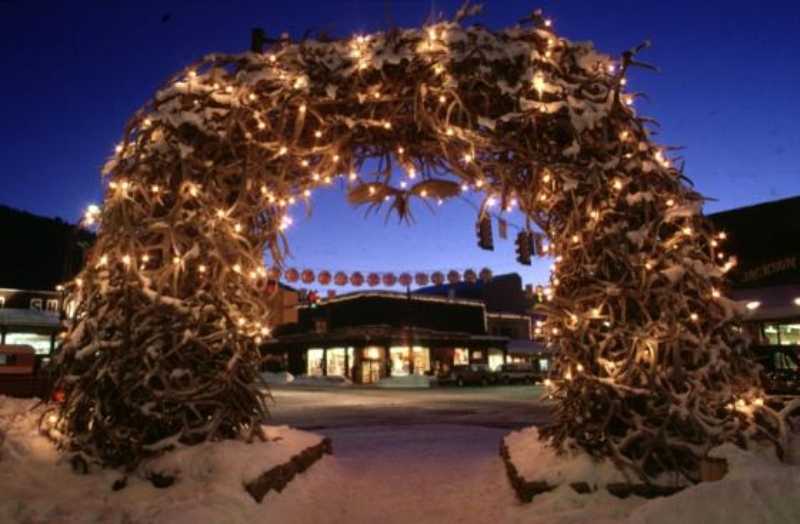 Enjoy the perfect skiing and delightful holiday events at Jackson Hole Mountain Resort this December. During the Holiday Roundup from Dec. 24 to Dec. 31, guests can see Wyoming's indigenous osprey, say hello to avalanche dogs, and even ski with Santa. There are several stunning slopeside lodges to choose from, including the luxurious Teton Mountain Lodge & Spa and the ski-in/ski-out Four Seasons Resort and Residences Jackson Hole. Also, Yellowstone National Park and Grand Teton National Park are nearby these resorts for any visitors who want to see these breathtaking spots at their wintery best.
But before you visit any place or plan your Christmas gateway make sure you make a checklist:
Please remember to check local government advice before you book or begin your trip
Always choose flexible booking options in case plans to change
Get informed on airline face mask regulations
And learn what to expect in this new world of travel
Also read: This Town Puts Up Cute Christmas Lights Designed By Their Kids' Drawings