If you're like us, you tend to spoil your cat more than you spoil yourself. We rounded up plenty of gifts for cat lovers, including interactive toys, scratchers, loungers, and tasty treats. As cat owners, you'll definitely want these products that will not only match your cat's personality but also be quite useful. Here's a list of 17 cat accessories that will make their day and put a smile on their faces.

Amazon
It will be the most loved product for the cats. Yes, they are low maintenance and can spend their days in a box. It's a great way to ensure that cat has some movement and doesn't get bored. With the catnip pouch in the toy, it will get your kitty excited and happy at the smell of catnips.
Catnip could relieve your kitty of depression and stress.
Customer Reviews:
"I'm never sure if a new cat toy will be received as well as I hope, but this one sure delivered! My three cats have been playing with it almost non-stop, except for when I have to take it away to charge it. One of them pretty much "hogs" it and the other two can't get near it, though they try."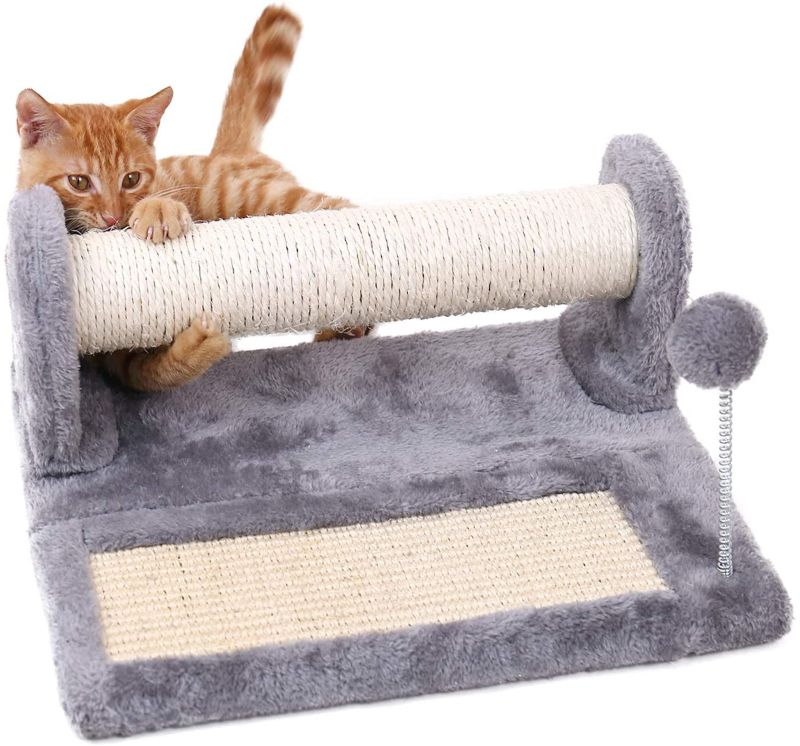 Amazon
We know how much cats love to scratch and sometimes, our furniture pays the price. This scratching post and board will allow your felines to scratch from any angles as they like. It also has a fuzzy ball so that your cat can have hours of fun from it.
Customer Review:
"I liked that it has the roller scratching post and also the flat scratching surface. It also has the round carpet ball on the spring that is fun to play with and the carpet on this item is soft and good looking. Very good product."
Amazon
This amazing toy is great for your hyperactive kitten. The self rotating ball is great to have your pet chase the ball around and have fun.
Customer Review:
"This toy is amazing! Very durable and the battery lasts for hours. Super easy to charge as well. Both of our kitties are obsessed with it and it's really nice to keep them occupied especially at night when they are feeling wild. Very very happy with this purchase!"
Amazon
If your cat sheds like anything then this a gift from heavens. You have to apply the gentlest pressure and it does the job. It's amazing for those cats who dislike brushing.
Customer Review:
"I was very hesitant to purchase a brush for my cat's shedding that cost over $20 — but his shedding is just terrible and I'm out of ideas. I don't want the poor guy to end up in surgery, stuffed with fur. So I went for the Furminator. To my surprise, after daily brushing for about a week, I think I've removed a good 75% of his thick undercoat. His coat looks so much better! It has gotten the undercoat shedding under control and we are both very happy customers!"
Amazon
messes are inevitable when dinnertime rolls around. This will keep your floors food-free, and will also protect them from water damage if your cat is the type to splash their water bowl before drinking. Its available in three sizes and three colors for you to choose from!
Customer Review:
"Love these! About a month ago I bought two of the small gray mats, one for each cat's feeding station. Perfect size! The mats are high quality and look & feel like they'll last a lifetime. Clean up is easy. The lip along the perimeter helps contain messes as you carry the mat to the sink for a daily wiping/rinsing/washing off of food particles. The lip contains water bowl spills too."
Amazon
This will soothe your cat's ear infections, redness, and inflammation. It has a no-sting formula that helps ease painful ear infections caused by bacteria, fungi, and yeast.
Customer Review:
"My cat is 9 and has had ear problems on and off all throughout her life. Crazy amounts of earwax, always shaking her head and scratching. Every year the vet gives me new ear drops for her to try and it would never solve the problem. In December 2016 my vet put my cat under and cleaned both of her ears. She said she was surprised my cat could even hear anything because of the amount of wax build-up, but told me it didn't look like she had any ear mites. I came across these drops and decided to order them. I did exactly as the instructions said and my cat didn't seem to mind these and actually let me put these in her ears. I noticed a huge improvement while using them, the ear wax was slowly disappearing. Fast forward to July I checked my cat's ears today and NO WAX!!! NONE! this stuff is amazing. She is finally wax-free!!"
Amazon
If your feline loves watching things move outside then this is the perfect product for them. It's sturdy and will let your cat sunbathe, sleep, relax and enjoy!
Customer Review:
"This is perfect for our situation. We needed something sturdy that could easily be placed, moved, replaced, and not lose its integrity or leave any marks/wear behind. I was worried when purchasing if the suction cups would hold, and if the material of the hammock would be easily cleaned of hair, etc. After receiving and placing the item, I saw how sturdy the general frame, hammock, and suction cups were. This was clearly designed by someone who has cats as well.
The wire that attaches it to the window is sturdy and thick. It seems like it will stand the test of time against my cat's teeth. I have 3 cats under a year old and one two-year-old cat. There is a lot of energy and lots of chewing. Immediately, I felt at ease that the structure will not be tampered with by their fangs."
Amazon
Pets need love, attention, and care. This automatic feeder is great if you are away from the house for a longer period of time. You can use this to customize the meal times and portions and with voice recording – your cat will feel connected and safe.
Customer Review:
"I've had this feeder for about 2 weeks now and it has made my life so much easier. When it comes to portion control, this thing is great and there is a variety of ranges you can set to only allow a certain amount of food to come out. I've been able to keep my cats on a feeding schedule which makes it easier when trying to feed all of my animals at the same time. When it comes to programming, it's so easy to set the day, time, and amount. Filling it with food is simple and even alerts you when food is getting low or out. They can't manipulate it or stick their paws inside to get more food to come out."
Amazon
Cats are quite independent and this toy is amazing for them to get their scratches and self-grooming. It has special slots for catnip (if you use it) and a variety of different brushes that'll collect hair and encourage healthy self-grooming. Cat accessories like these will make your and your cat's life much better!
Customer Review:
"My four-year-old cat and three and a half-month-old kitten both love it. The four-year-old is a demanding "rub on me now!!!" kind of cat. She's a little less aggressive about it now that she can redirect some of that to this product. The pad is removable (Velcro) and wipes off easily."
Amazon
Okay, if you want to treat your cats with amazing flavors then buy this right now! It's baked with a blend of chicken, bacon, and cheddar flavors, your cat won't be able to resist this one. The treats come in a variety of shapes and sizes with tartar control, making feeding more pleasurable.
Customer Review:
"I have a very, very finicky kitty who won't eat anything but this brand of treats and especially loves this flavor. She will sit on command for them and also leads me to her food cabinet when she feels it's treat time! Won't do anything like that for any other brand! And these are some of the best value treats available. I'm a return customer!"
Amazon
It's absolutely safe for your felines. It has a non-stinging formula that is just perfect to use in and around the eye. It comes in pre-soaked pads that gently clears any goop and crusty eye boogers.
Customer Review:
"Oscar gets really bad infections around his right eye, it causes his whole area to get red and crusted up. We tried this and it worked great! Even after the first use, we could see a big difference. Will absolutely buy again."
Amazon
This spray is loved by everyone. It's cruelty-free and formulated without colorants, sulfates, and any added fragrances. In short, perfect for your cat. It will make your cat's coat soft, shiny, and free of dander and flakes.
Customer Review:
"Was actually surprised how much my cat LOVES this spray. I was certain he would run and hide as it's in a spray bottle. Instead, when I grab the bottle and his brush he runs up to me and follows me with ALMOST the same excitement as when I tap a can of wet food. He now loves being brushed, and his dandruff has significantly improved within only a few uses."
Amazon
Living with furry babies, one can get used to the odor. But it can make things difficult if you have people coming over or if you are hosting parties. Angry Orange doesn't just mask odors— it eliminates them, acting as both an odor neutralizer and carpet cleaner. A small amount goes a long way, which means even the toughest pet odor removal jobs can be done efficiently and affordably.
Customer Review:
"This is the best cleaner I've tried in a long time. The orange smell is a real orange smell not the fake orange smell that most things have. It helps with my 15 year old cat starting to have issues with her bladder. Also works great in the bathroom on the tile and grout."
Amazon
This is the most effective handheld vacuum to suck up pet hair. It has a special rubber nozzle that picks up the fur with ease, especially on hard-to-vacuum areas.
Customer Review:
"Holy crap!! I've seriously bought every kind of vacuum out there, including the Rumba. But I have four cats and a golden retriever, so I was getting desperate! I believe the saying is… a picture is worth a thousand words. Check mine out (above)! Of note — the 'before' picture was taken of my dog's bed AFTER it went through the washer and dryer. Look at all of that left-behind hair!!! And the 'after' picture was taken after only THREE MINUTES spent vacuuming her bed. I. Am. SOLD! BTW, I've NEVER taken the time to review a product before, just FYI."
Amazon
This is perfect for the feline who simply cannot get enough of those scratches. This product adheres to any corner of your home. It makes self-grooming easy and quite satisfying for your kitty. One of the best cat accessories you can get for them!
Customer Review:
"My cat likes nothing. He doesn't go into paper bags, ignores boxes, isn't curious about the birds. Mostly he eats and sleeps and allows us to pet him. But he LOVES this!"
Amazon
A calming diffuser kit is perfect for those stressed-out kitties. It helps them to relax. This is especially useful if your cat is having trouble adjusting to new surroundings or has separation anxiety.
Customer Review:
"It worked within minutes for my 3 rescue kittens. They were really upset when we brought them home after a 5-hour drive and were hiding and hissing. Within 10 minutes they came out and wanted to be pet."
Amazon
Top entry kitty litter box is the perfect way to prevent litter scatter and contain spraying.
Customer Review:
"This product works brilliantly. Took a cat a couple of tries to get used to it but it's big enough for a full-grown cat to use. Comes with a litter tool with a hook so it can be placed on side of the tray. Now my dogs can't tip the tray over or attempt to eat its contents and the cat doesn't rip up the carpet by digging around the edges of the tray or bring half the litter out onto the floor. Definitely a tidier type of tray!
We hope you love the products we recommend! All products featured on Munchable are independently selected by our editors. If you buy something through our retail links, we may earn a commission on the sale. Oh, and FYI — prices are accurate and items in stock as of the time of publication.
If you liked our cat accessories article then check out – 2021 Calendars And Planners That You'll Need To Organize Your Life!