For every beauty megafan, Sephora is a wonderland that just keeps getting better and better, as you explore its isles. The mega-retailer has everything from hair, makeup, fragrance, and skin-care brands, and beauty moguls swear by it. If you are looking to invest in some new makeup and skincare pieces or simply upgrade your vanity, start with the best-rated ones at Sephora! Here's a list of best-selling Sephora products that will elevate your game and how!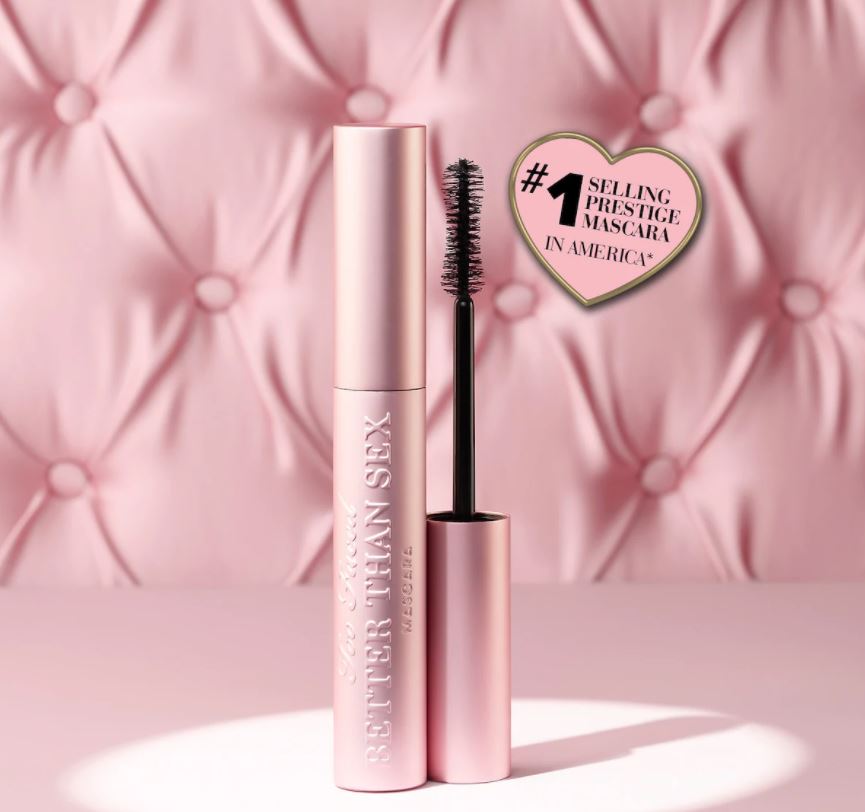 Sephora
Is this mascara realllllyyyy better than sex? Well, there's only one way to find out. It does feature in the best selling Sephora products list! What is guaranteed though, is thick voluminous lashes!
Sephora
With a combination of both shimmery and matte shades, the Huda Beauty Nude Obsessions Palette makes for natural everyday looks. It has great pigmented shades that can help you transform your look from day to night with just a few dabs and swipes on your lids.
Sephora
Gloss 'em up and smack 'em at your haters, gurllll! This bomba*** set of mini glosses is all you need to blind the world with your awesomeness. And hey, when RiRi approves it, we stan!
Customer Review:
"Yes it's sheer but this is the best lip gloss everrrr. It saves my chapped winter lips when literally no other brand can. feels a little oily but never sticky. Love it these so much! I usually put these on top of a matte lip so my lips look juicy instead of dry or I put it on by itself for hydration."
The Style Parcel
This is a high-strength liquid vitamin and mineral blemish formula with 10% niacinamide and 1% percent zinc PCA. It's good for all types of skin and is used to smoothen the texture of your skin and remove blemishes. It is cruelty-free, vegan, and formulated without alcohol, nuts, silicone, gluten, and any kind of fragrance. Literally your skin's best friend!
Customer Review:
"Love this product! Consistency is key. My skin initially hated it. But, I took a break and started applying it daily as my PM routine and my skin loves it now. My skin is definitely smoother and it also minimized the pores around my nose and cheeks. Took good 2-3 months to see results, but totally worth it."
Sephora
A high-end gel liner for just $26? This one looks like a steal. If you are looking for some good pigmentation, this gel liner might do it for you! Not only does it deliver intense color and 12-hour waterproof wear but also glides in with a shimmery, matte finish.
Wow Cher
If you are thinking of a minimalist eye product, here's something for you. It has a smudge-free, waterproof pomade formula that allows it to perform as an all-in-one brow product giving you a soft, finished look. Its standout formula works as a brow primer and provides sculpture, color, and shading. Sold enough? Get one for yourself today!
Sephora
Shine bright like a diamond with the Fenty Beauty by Rihanna Shimmer skinstick. The best thing about this product? It is cruelty-free! We stan the bronze Goddess, Rihanna!
Customer Review:
"I love these. I have 6 different shades I love them. I use them as eyeshadow and blushes."
Sephora
This bestseller at Sephora is a two-shade compact that creates a natural brow. Its lightweight, sheer to medium coverage formula has been designed to be smudge-proof. It comes with two shades with every compact, in order to ensure the perfect brow color for your face!
Customer Review:
"This is the first eyebrow powder I've found that actually matches my eyebrow color. Many end up being too grey or brown. Highly recommend if you are closer to the orange side of the redhead scale."
Sephora
Get your brow game on and make it strong with the Benefit Cosmetics Brow Setter Clear Eyebrow Gel. This clear brow gel will help you groom and tame your eyebrows and make them look slick or stylishly bushy, as you please.
Sephora
Here's an ultra-purifying mask that will deep clean and visibly reduce your pores. Let's get Christmas ready, shall we?
Buy for $10.50 – $21.50 (depends on size)
Sephora
With notes of Bergamot, Muguet Blossoms, and Musk, the Amazing Grace Dry Shampoo has a fresh, floral scent. Don't feel like washing your hair today? Eh, just spritz some of this on your scalp and you are good to go.
Customer Review:
"This is the best dry shampoo I've tried. I have to wash my hair everyday because it is so oily and this dry shampoo is the only one I've found that allows me to go a second day without washing. It really absorbs the oil and smells great too!"
Sephora
To get that sun-kissed Goddess-like gorgeous eye look, go for this Huda Beauty Topaz Obsessions Palette. The shades are suitable for all skin tones and give you a cool day-to-night transformation with the swivel of a brush.
Sephora
Let's get that watermelon sugar high with this glow sleeping mask. It is a skin-smoothing mask with watermelon, hyaluronic acid, and AHAs that help to gently exfoliate the skin and refine the look of pores.
Customer Review:
"This smells so fresh and good! It feels amazing on my skin! I feel like my skin looks refreshed in the morning and I love that this product isn't sticky and absorbs well into my skin. I absolutely love this product and can't wait to try others from this line!"
Sephora
A great palette for an easy party look is what you're looking for? The Natasha Denona falls in the luxury makeup category and with its amazing pigment is totally worth the dough. Due to its compactness in size, it is also very simple and easy to carry in your purse.
Customer Review:
"Really great choice! I am new to Natasha Denona, but this one speaks about the quality of its palette."
Sephora
Ck one body spray is the perfect way to refresh and re-energize throughout the day and is a much lighter version of the popular scent. This is a light, relaxed scent and is meant to be used lavishly. It can be sprayed all over but is an intimate fragrance. You gotta be to be near the person to smell.
Sephora
Looking to switch up or go for a new shower gel? Well the Living Grace is a luxurious body and hair formula for cleansing your body. Slightly on the pricier side, but worth every dollar.
Sephora
Known for it's sweet and intoxicating fragrance, the Bright Crystal Absolu Eau de Parfum is a known for its prolonged persistence and is a scent for a woman who entrusts her femininity.
Customer Review:
"I love this little set, you can carry the little perfumes on your purse. Perfect for trips"
Sephora
Another travel gem of a fragrance is the Armani My Way Eau de Parfum with notes of Orange Blossom, Tuberose and Vanilla. This fragrance combines sourced ingredients from around the world in a surreal blend of woody and floral notes. You're going to want to get this one!
Customer Review:
"Love it! It smells so good and expensive and it last all day leaving you to smell citrusy yet sweet"
Sephora
This coral beauty is small, compact and has a multi-use factor to it where it can be used for both your face and your eyes. It is a palette that'll give healthy glow adding even more versatility to your look.
Amazon
This product boosts shine, repels humidity, and brushes out your locks without flaking. You can use it to keep casual up-dos in place or as a foundation before braiding your hair.
Customer Review:
"Love, love, love this hairspray! Holds my style without being heavy or leaving my hair crunchy! I also LOVE the smell! I sometimes just spray a little in my hair for the smell of it! Would def recommend this to my friends! This is not a super strong hairspray. It is better suited for daily loose curls and anti-frizz styles."
Sephora
Understated luxury with infused almond oil is what makes L'Occitane cleansing and softening shower oil what it is. It is a decadent body cleanser foaming oil-to-milk texture that'll leave you skin feeling satiny-smooth.
Sephora
Want to smell like a vanilla confectionary? You need this Vanilla Birthday Cake bath and body gel by philosophy in your lives. This too-good-for-words scent will offer you an unforgettable shower experience and some bath time fun.
Customer Review:
"I use this as a body wash and a shampoo at times. It makes my hair so soft, I really like it. Have purchased a few times now."
ChinaHao.com
The NARS Orgasm C is an award-winning powder blush that'll leave you with a healthy-looking color to flatter any color and type of skin tone. You can't go wrong with this one.
Customer Review:
"Love this blush! Looks amazing on, whether it's applied softly or heavy for a more noticeable look."
Sephora
A Marc Jacobs Blush duo, that too at such a steal? If you want to pick up a lux makeup piece for your vanity, why not go one with a bestseller, and this one's it!
Customer Review:
"Beautiful and easily blends. Stuck around all day without a primer! Very pigmented too, so this will last for a longgg time."
Huda Beauty
Being a silky, second-skin liquid highlighter that gives one a long-lasting, soft, and luminous finish, the Rare Beauty by Selena Gomez Positive Light Liquid Luminizer Highlight is a game-changer and a must-have in your makeup kit.
Sephora
This paraben-free Tarte micronized Amazonian clay blush helps control oil and infuse moisture for balanced and seamless blending for your skin. For $29, and being a best-seller on Sephora, this is not bad at all!
Sephora
This Glow Kit will bring in an instant luminosity to your complexion with these four metallic powder highlighters. All you gotta do is just layer the highly blendable shades together or you could simply wear them separately on the eyes and body for a glowing radiant look.
We hope you love the products we recommend! All products featured on Munchable are independently selected by our editors. If you buy something through our retail links, we may earn a commission on the sale. Oh, and FYI — prices are accurate and items in stock as of the time of publication.
Also Read: 20 Skincare Products Under $30 That You Should Definitely Have In Your Dresser