Too many shoes? Said no one ever! A girl's best friend are many! Candy, coffee, confidence, and herself. Something to add to that confidence? A killer pair of shoes. We've hunted the coolest and best-reviewed shoes on Amazon and brought them to you to be the bad-ass queen that you are and rock your outfits be it pajamas or an LBD. Check out these 22 shoes right away!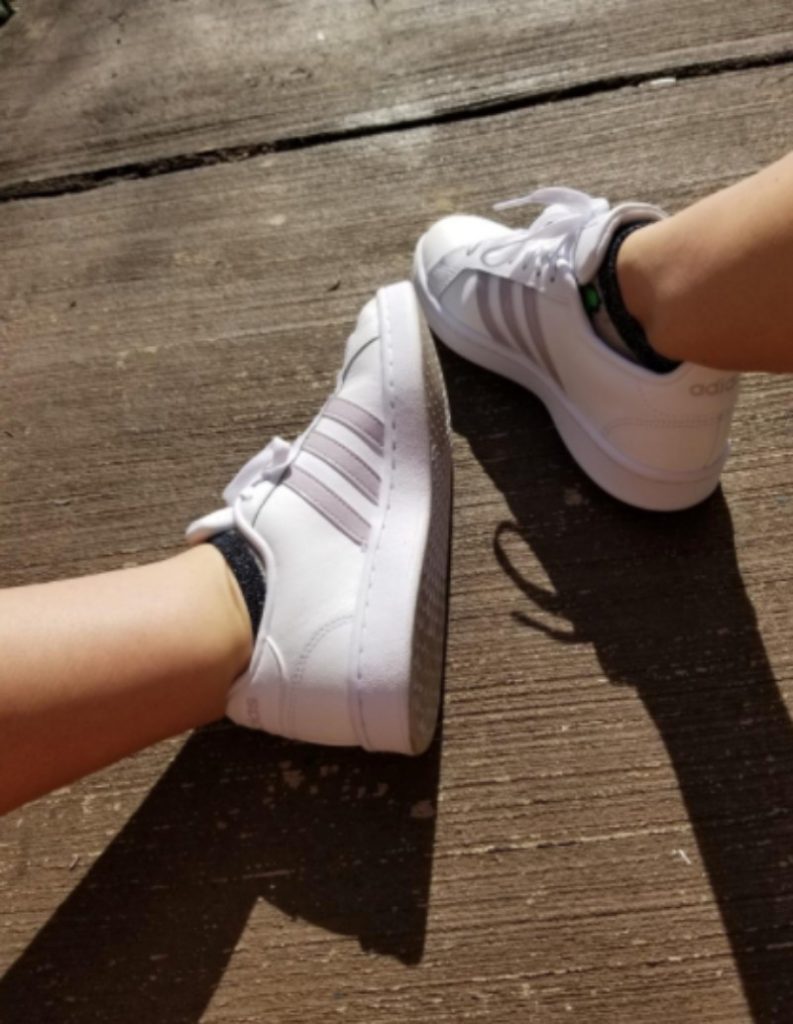 We cannot get enough of Adidas classic shoes. These shoes capture the essence of the famous 70s style. They are made of durable leather-like material for the upper and have plush midsole cushioning, which gives the wearer comfort in every step. And since they are so classic, you can rock these shoes for almost all occasions.
Customer Review:
"These shoes are scrumptious. I am an Adidas fan to begin with, so I know what to expect with regards to fit and style, but ohhhh…getting them fresh out the box is always a religious experience. I got the black Grand Court Sneaker with white stripes. What people love about the iconic brand is true to form in this attractive shoe. The sizing was spot-on. The comfort of this shoe is fantastic. I am sitting here thinking of all kinds of glowing words I can add to this post, because, as you see, I am in love.
I do not use this shoe for sport, but for casual wear. The Grand Court Sneaker is perfect with leggings or jeans, and I have even worn them to work with dress pants and a casual top."
Amazon Customer – Mel
Three reasons why you gotta get yourself these cork sandals. They are vegan, they have 100% genuine suede insoles AND they look so effortlessly stylish.
Customer Review:
"I LOVE these!! Way comfier than I expected. I would say they run a smidge on the small side so if you're border line just size up. I'm hoping they hold up over time."
Amazon
These sandals look adoraaabblleee! We can't get over the fact that they cost less than just 20 bucks! These will go well on dresses, jeans shorts and pants alike. These Classic Espadrilles will give you the girl next door vibe and make your feet look cute! Honestly, these are like an essential, add 'em to your cart now!
Amazon
These ballet flats are pretty friggin cool. Know why? They can be rolled up and tucked away in a bag! These are shimmery, cute and easy to take around. So if you're packing light and need a pair to carry, these are the ones for you! Since these are portable and if you're heading out in high heels, few hour into the night when you're tired, you can take your heels off and wear these shoes.
Customer Review:
"I bought these to change into on flights & bought the small size. I am a perfect size 6, these are snug but very comfortable & cute! I am going to get another pair in the medium for use with heavy socks & or longer flights where my feet might swell. I think these are perfect to put in your purse & a good value!"
Amazon
This is one pair of heels that every woman MUST HAVE in their shoe closet. If you haven't gotten your hands on a pair of clear block heels, girrrrrlll you're missing out. They add a dimension to your outfit without driving away attention from you and add height as well. Did we mention they're comfy as hell?
Customer Review:
"They were actually very comfortable! I had to make a extra hole in the straps to tighten them b/c my ankles are so small but overall ….a very good buy ! I kept them on for about 3 hrs"
Amazon
Looking for a pair of shoes that spell both comfort and class? These Mocassins's are the perfect one's for you! You can not only walk miles in them but they also look pretty damn cool with whatever outfit you'll wear be it with a pair of jeans or a cute lil summer dress.
Customer Review:
"So far, these boots are great! Received them yesterday & wearing today. I wear between a 7.5 & 8…usually a 8 in boots, but 8 was not available, so I took a chance with the 7.5…glad I did…they have plenty of room in them & fit perfect."
Cloud Front
Easy to strap on and walk in, these velcro sandals are what'll enlighten your bohemian soul and be by your side as you walk along many adventures and experiences. These sandals can withstand the rain and more. We don't know what you're waiting for. Add it to your cart already!
Customer Review:
"I'm here simply because I love these sandals! Before I purchased these, I was on the hunt for a comfortable walking sandal that could handle lots of situations. I wanted to be able to walk on the beach, splash in the water, walk a few miles and not feel that I looked like too much of an outdoorsy "hippie." And I'm totally an outdoorsy hippie! I fell in love with these the moment I received them! I ordered the Simply Taupe and I liked the pink touches. I liked how I could easily adjust every strap and how they looked strappy but not messy. These still look clean and polished and I can wear them with hiking shorts, jeans or dresses, which make them great for travel."
Amazon
We can't get over how cute these white sandals look. They have adjustable wide straps to give you a custom fit and are great if you've got wide feet. Another plus about these sandals? These are flexible waterproof and washable!
Customer Review:
"I'm a size 6 1/2 and I got a size 6. They fit perfect. Wore these shoes during my entire visit to Thailand. They were amazing and comfortable and I definitely shouldn't have packed any other shoes bc these are the only ones I wore lol"
Amazon
A good pair of sports shoes is yet another must-have in your closet whether you work out or not. You can run, walk and exercise in these. Even wear them when you're out running errands. The coolest thing is that they're available in fun & attractive colors to keep things interesting. So how many pairs are you going to get?
Customer Review:
"This is my second pair of these sneakers. They are extremely comfortable. The fit runs for me about a size too large. I normally wear an 8 in sneakers but I ordered a 7 and they fit fine. These are made of a stretchable material so if they're a little snug that's OK they will stretch. Love the fact that you can tie them up and just slip them on without having to tie them again. I'm thinking about buying my third pair."
Amazon Customer – Jen
Looking for some fluffy slippers to wear and walk around the house? These are not just soft, but it's like walking on clouds when you're wearing them! Get a pair for yourself today.
Customer Review:
"These are a must have. They fit perfect and feel amazing!"
Amazon Customer – Dani
Another pair of comfortable slippers to walk and waltz around the house in are these quilted slippers. If you're looking for some extra lovin' and comfort for your well-deserving feet, these are the true essence of comfort.
Customer Review:
"I love them. I wear 8 1/2 shoe and Medium fits perfect, I knew this because I already own a "large size" pair Dearfoams slippers and they are too big but wearable. These slippers are so comfortable; it is like walking on a cloud."
Sanuk.com
These sandals are not only comfortable and easy to walk around in, but this pair is also vegan and eco-friendly! They have comfortable straps that you can wrap around your ankles for support. If your style is influenced by bohemian aesthetics, this pair of footwear is for you!
Customer Review:
"I now own 6 pairs of these sandals in 6 different patterns which gives you a sense of how much I love them. These are some of the most comfortable sandals I have ever owned. They are definitely "all day" sandals. I have walked the streets of Italy in them, done all my household chores in them, and worn them all day at work. I can't say enough good things about these sandals. I highly recommend them.
They do only come in whole sizes. I generally wear a 7 1/2. I buy these in size 7 and they fit very well."
Amazon
Who said house slippers cannot be classy? These knitted slippers are made up of meticulous cable knit that have a high density cushioning, to give your heels the soft support they need. To elevate the comfort level, the slippers are also lined with polar fleece for an extra layer of warmth for your feet.
Customer Review:
"Very comfortable and adorable! "
Amazon Customer – ReggaeMuffin
If you're looking for something that you can just slip on and head out of the house to run errands and get some grocery shopping done, these slippers are just the right pair of shoes for you. They are simple, easy to wear, and will suit all feet types. They are also available in many fun colors!
Customer Review:
"I bought these cheap pair of flops just for running around yard and the pool- just something to throw on where I don't have to worry about getting wet or dirty. They are way higher quality then I expected- they are super comfortable right out of the gate and have a nice cushion. "
Amazon Customer – Mario
Looking to add a pop of color to your simple outfit but still want to make sure you look like a queen? These orange pair of wedges are the perfect fit for you!
Customer Review:
"Perfect work or play shoe!!! Sooooo comfortable & really pretty!!!! You won't be disappointed. I like them so much I ordered 5 different pairs of Clark's Wedge Sandals to wear to work. Hemmed all my pants to work with my Clark's! So thankful I found these on Amazon! I work in retail full time. On my feet all day. These are a God send!"
Amazon Customer – Antoinette
Yet another pair of versatile sandals are these flat leather thong-style t-straps. These can be worn with a dressed-up outfit or a casual one. They go best with summer dresses, skirts, and shorts.
Customer Review:
"I wasn't expecting these to be anything special for $10- but they are WAY comfortable! There is extra cushion in the soles, that was an great unexpected surprise. I would definitely order in other colors. Great sandals!"
Amazon
For if you're someone who's not very fussy with their shoes and footwear choices, these ankle-strap sandals are just right for you. They provide ample amount of support thanks to the straps, and have a synthetic sole which makes 'em light on the feet.
Customer Review:
"These are great sandals for the price. They fit and we're comfy right away and they have cushioning under the foot. "
Amazon
It's always a good idea to keep a nude pair of heels around in the house because when we say they go on everything, they literally go on EVERYTHING. This pair of shoes has a low heel so it adds to your comfort and the straps make it look stylish. They are also available in various colors.
Customer Review:
"These are good shoes! They look nice and can wear for hours. These are great for wider fit too! Not just for narrow feet."
Amazon
Want to add some oomph to your outfit without doing much? This stunning pair of heels will do the deed. They are flirty, pink, and drop-dead gorgeous, don't you agree? The heel height also makes them comfy to walk around in. This pair of shoe must be added to your cart right now.
Customer Review:
"OMG!!!! Absolutely beautiful, comfortable and sturdy shoes. I am so very pleased with these shoes…and they were packed so carefully and cutely, with a pink ribbon…that was special!!!!"
Amazon
Looking for something super-girly and pink? These pumps are no joke! These neon pink pumps are tall and will make you say the words "Werkkkk it gurrrll!". These pumps will give you confidence, make you look sassy and make any outfit go from drab to fab!
Customer Review:
"I absolutely love these shoes and am extremely impressed with the quality at this price point. As soon as they arrived I ordered two other colors. Regarding the comfort…I would not purchase a shoe with a 4 3/4 inch stiletto heel and pointed toe if I was looking for comfort. However, they are as comfortable as similar shoes I own which were significantly more expensive."
Cloudfront
That's too much glitter said no one ever! These high heels are the perfect combination of clear and glitter. Looking to jazz up your outfit with a pair of shoes, these are the solution. These shoes are great if you're going to a party as they can snazz-up just about anything you're wearing!
Customer Review:
"This shoe is drop dead gorgeous. The diamond on the head is so shiny. "
Outdoor Gear Lab
Love the outdoors and going for a hike? These hiking boots are going to be be your best friend. They are sturdy, not too heavy and wear well! These boots are waterproof and the tongue is made of mesh hence it's breathable.
Customer Review:
"THESE ARE AMAZING BOOTS and YOU CAN'T GO WRONG WITH THESE BOOTS. These boots held up against all different types of climates and weather and water on my road trip and they still look great! We went to Arizona, Utah, Nevada; the Grand Canyon, Joshua Tree, Zion, Salt Lake."
Now that you have sooooooo many amazing pairs of shoes to pick from, which one's going to make the cart? Or should we say which ones? 😉
Related Articles:
20 Skincare Products For All Skin Types You Gotta Get Your Hands On!
20 Products That'll Make Every Woman's Life Easier
20 Things To Give Yourself A Much-Needed Break While At Work
We hope you love the products we recommend! All products featured on Munchable are independently selected by our editors. If you buy something through our retail links, we may earn a commission on the sale. Oh, and FYI — prices are accurate and items in stock as of the time of publication.