They say that the most beautiful art pieces are inspired by nature. And this concept house is no exception. Inspired by the Mada'in Saleh rock tombs in Saudi Arabia, architectural designer Amey Kandalgaonkar has designed a modern house inside an enormous rock.
Unlike most architects who would demolish giant boulders like these, Amey Kandalgaonkar has a different take on it. Instead of removing and breaking the giant rock, Amey wants to build a house in it.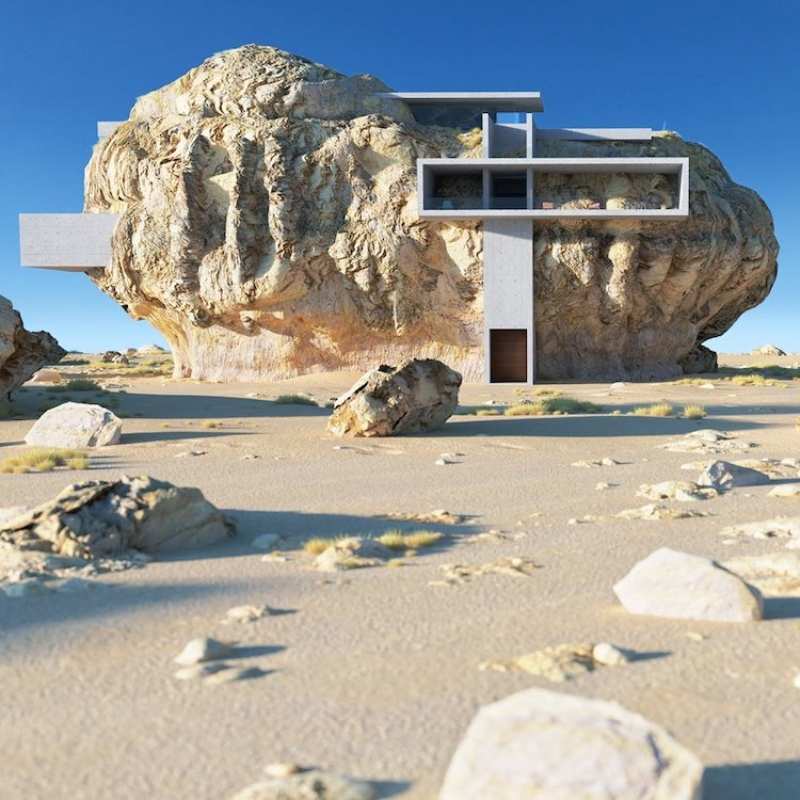 His personal project, House Inside a Rock, features a grandiose amalgamation of a massive ancient rock, cultural history, and a modern minimalist house.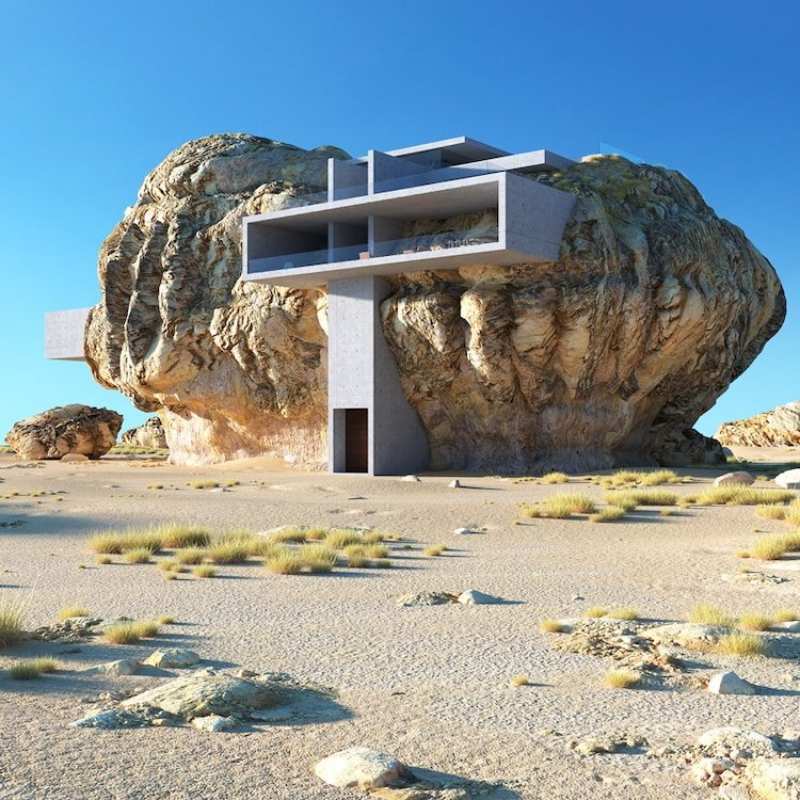 "When I first saw the images of rock cut-tomb architecture, I knew I had to use it as an inspiration in an architectural project," said Kandalgaonkar.
"There is a huge amount of architectural heritage laid out for us by past builders and I believe they did a great job of integrating built environments in natural elements."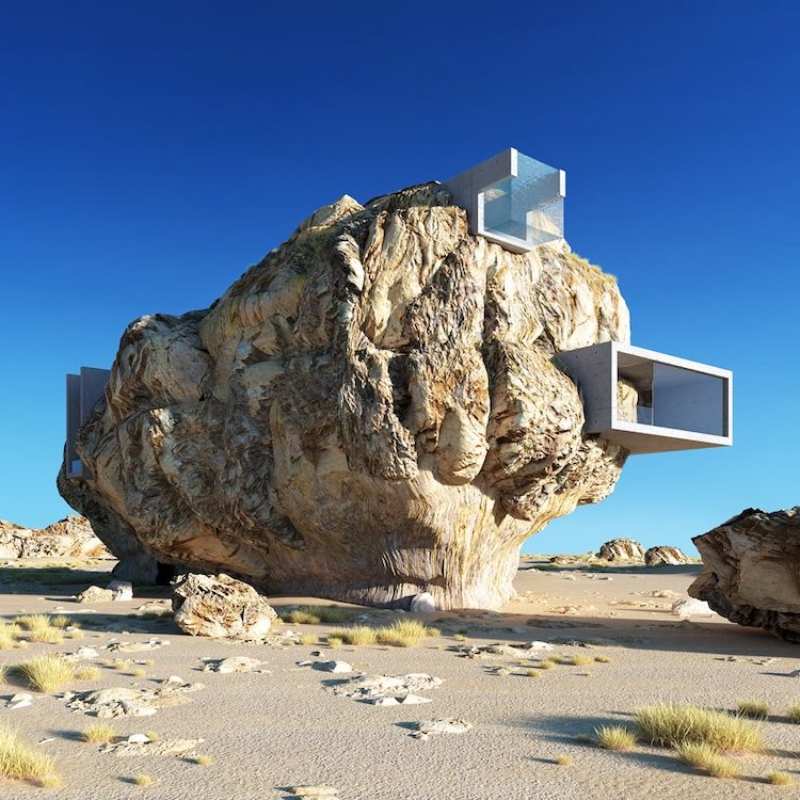 Amey is a master of creating the most unique 3D concept renders. He spends a significant amount of time understanding the workings of the shape and form of the rock before conceiving the home.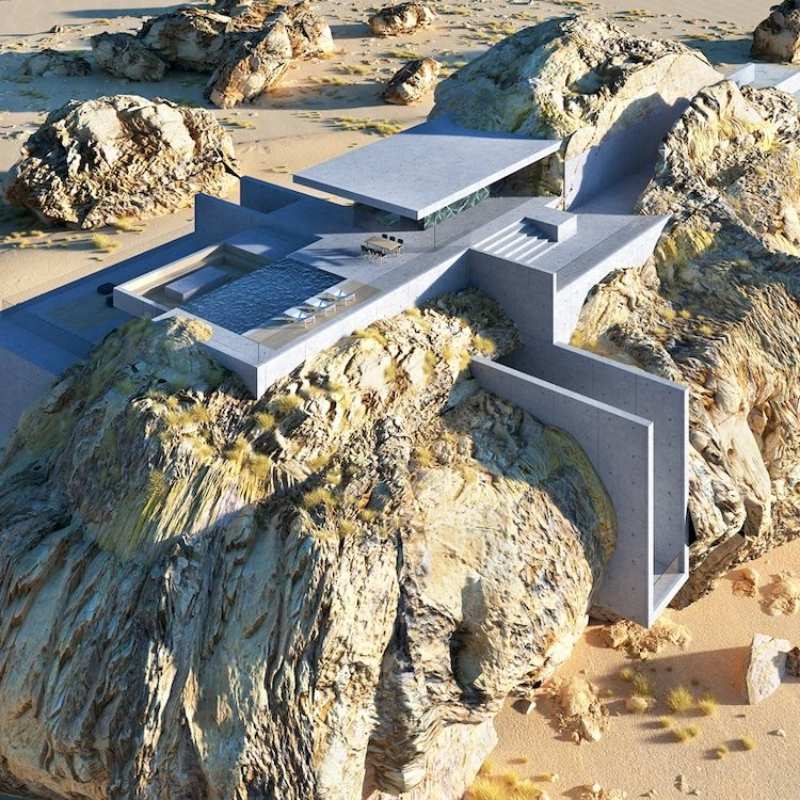 This concept house is full of surprises, above all for the manner in which it cuts into the natural material rather than building off of it.
In an interview, the Shanghai-based architect explained his thought process – "Considering the visual complexity of the rocks at Mada'in Saleh, it was imperative to use simple planes and cubes in order to achieve a visual balance."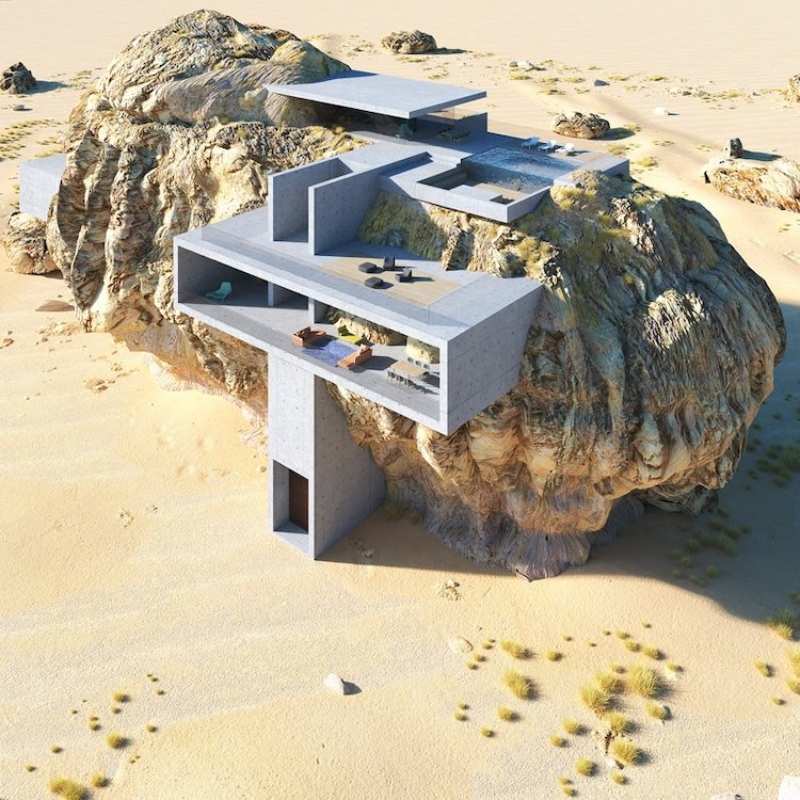 "I started out creating the rock in 3D software which in itself was a sculpting process. Later when inserting the house into this rock, I tried to keep its visual impact from eye level as minimum as possible and only when observed from a birds eye, the real extent of the intervention is revealed."
It might take a while for something like this to materialize in real world, we can't help but appreciate these incredible architectural concepts that remind us of the artistry behind architecture.
What do you think of it?
Amey Kandalgaonkar: Website | Facebook | Instagram
Related Articles:
This Giant 16th-Century 'Colossus' Sculpture Is Actually A Building
Magnificent Mirrored House In The Mountainous Swiss Alps Is An Architectural Wonder
A Twist In Design – Inspired By Muscle Fibers, Architects Design Twisting Tower For NYC Skyline