There's no doubt when we say that Alan Rickman was the finest actor. His talents have been appreciated by the world. But not many people know that he is a real gem in real life too. He is known to be the funniest and most generous person unlike his popular character, Severus Snape (From the Harry Potter series)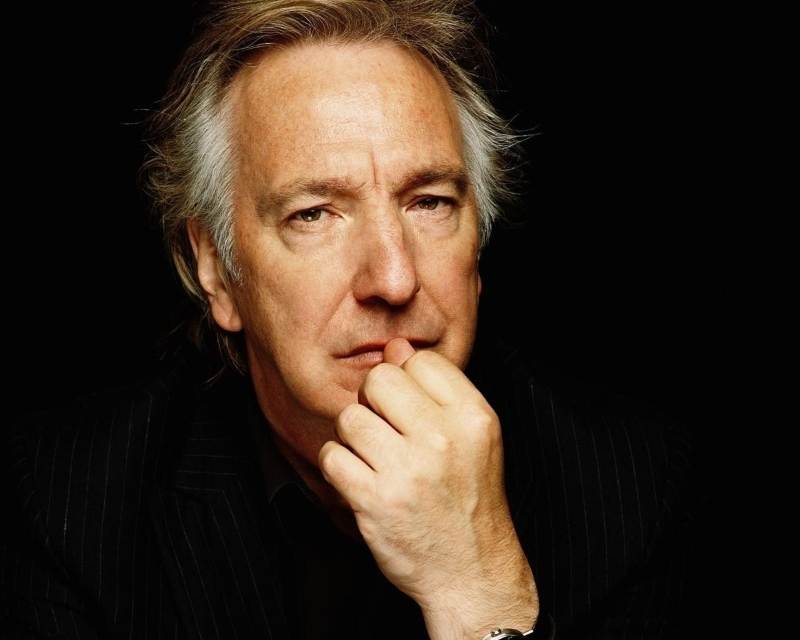 Many of his co-stars have come forward & discussed fond memories of him on the set. Check it out –
1. He regularly invited kids to the 'Harry Potter' set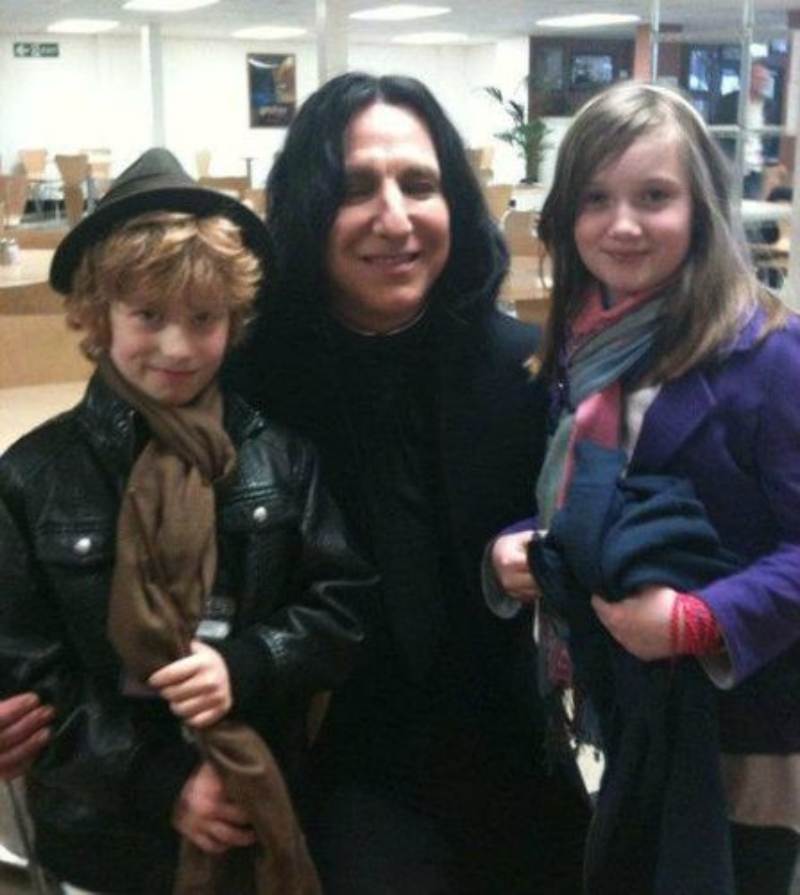 Remember Severus Snape? The serious demeanor and cold-hearted Snape was actually quite different. Evanna Lynch, who played Luna Lovegood in the Harry Potter films, talks about Rickman's big heart. You could have a glance at his softer side when he allowed people to invite the guests to the set.
Lynch told Entertainment Weekly:
Alan was a Method actor, so we were all pretty much terrified of him on set… But the memory that sticks out to me was we were allowed to bring guests [to the set]… Alan Rickman, pretty much every day of filming, he had a whole troop of little children [visiting]. It was the most bizarre scene to see Snape in this black robe… surrounded by all these happy little children who were just chatting away to him.
2. He protested when the crew of 'Rasputin' didn't get a decent lunch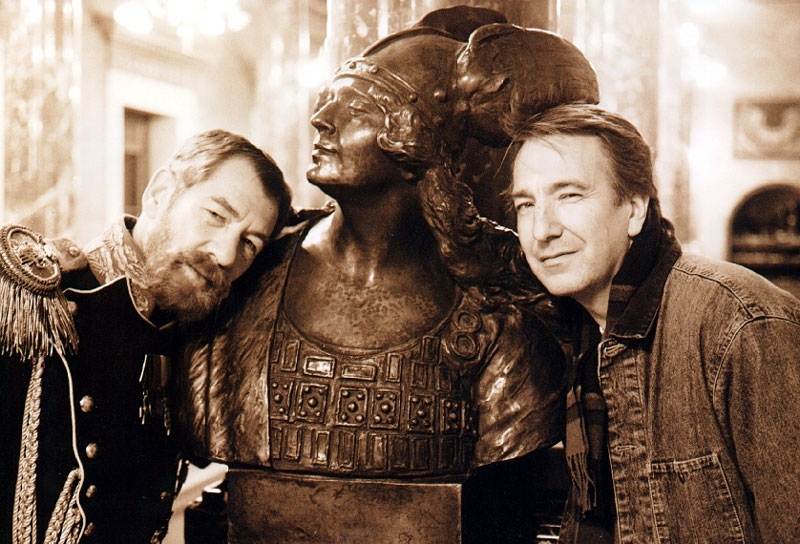 Alan Rickman had actually won a Golden Globe for his performance in the 1996 telefilm Rasputin: Dark Servant of Destiny. But there's one thing that most don't know about him. He is a kind and emphatic person.
His costar Ian McKellan, remembered in a Facebook post, "He discovered that the local Russian crew was getting an even worse lunch than the rest of us. So he successfully protested."
Rickman also stood up for McKellan, who was reportedly being picked on by the director during filming. As McKellan recalled:
"On my first day before the camera, he didn't like the patronizing, bullying tone of a note which the director gave me. Alan, seeing I was a little crestfallen, delivered a quiet, concise resume of my career and loudly demanded that the director up his game."
3. He used his 'Harry Potter' paychecks to treat friends & colleagues for dinner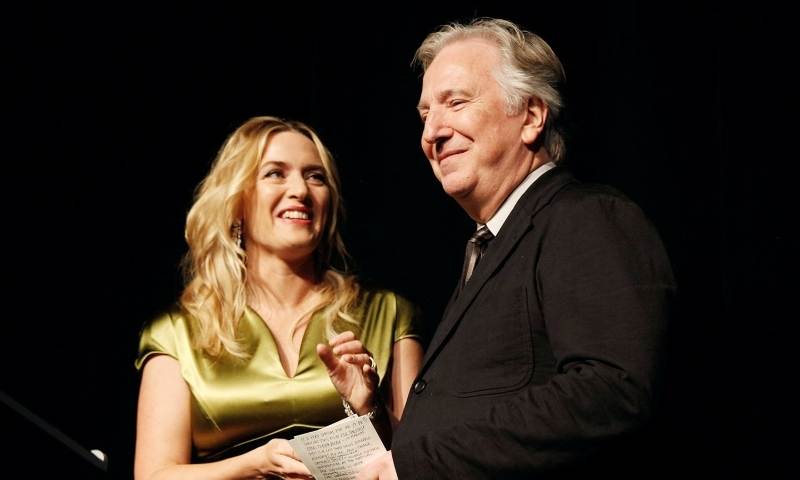 Rickman became known among his friends and colleagues for frequently treating those around him to dinner. Kate Winslet wrote about an anecdote she heard at his memorial service for Entertainment Weekly:
At Al's memorial, Juliet Stevenson told the story of how whenever Al would go out to supper, and anyone else would try and pay, he would somehow have phoned ahead or slipped his credit card ahead of the meal, so no one even got a look at the check. He'd just say, "I've got two words for you: Harry Potter." And he became known for doing that.
4. When a child with cancer visited the 'Harry Potter' set, Rickman got him a role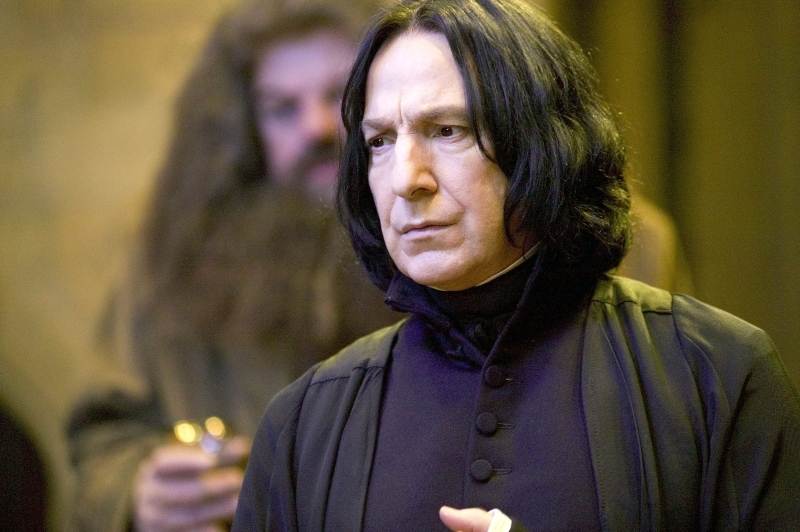 The producer of the first three Harry Potter movies, Paula DuPré Pesmen remembered a fond memory of Alan Rickman. She told Huffington Post in an interview how Rickman not only welcomed a child with advanced cancer to the set of Prisoner of Azkaban but also made sure the boy had a small part in the movie.
Paula DuPré Pesman told the Huffington Post:
Alan [kind] of went into his Snape-mode in costume, and said, 'Why isn't this child in the film?' Everyone had a good laugh, and Alan took him by the hand and put him into the crowd of kids as they were panning across. The back of him is actually in a shot.
5. He smoothed things over with Tim Allen with wine & chocolate ice cream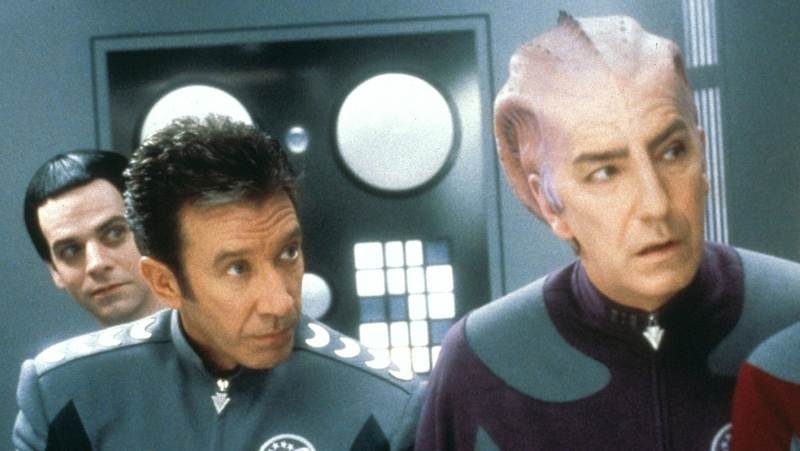 Photofest
Rickman costarred with Tim Allen in the movie Galaxy Quest in 1999. But apparently, their first meeting didn't go very well. Allen said in The Hollywood Reporter, "I don't think [Rickman] liked me all that much when we first started shooting."
Allen's quirky sense of humour might have been one of the issues. For example, when he learned that Rickman studied with famed acting teacher Uta Hagen, Allen said, "I went to the Uta Haagen-Dazs School."
But when Rickman and Allen later became friends, he remembers that Rickman "came to my house with a bottle of wine and chocolate Haagen-Dazs as a peace offering and said, 'This is for you because whoever taught you taught you very well.'"
6. He kept a caricature that Rupert Grint drew of him during the filming Of 'Harry Potter'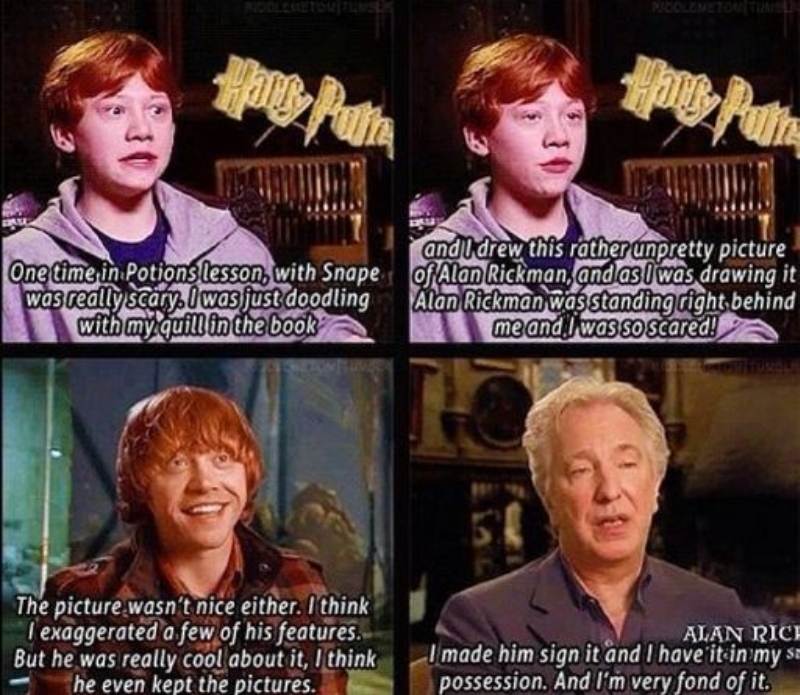 Rupert Grint, who portrayed Ron in the Harry Potter films, recounted how he drew an "unpretty" caricature of Rickman while on-set one day. He had no idea that Rickman was behind him during the doodling. Grint said in a behind-the-scenes video, "I was so scared. [The sketch] exaggerated a few of his features."
Rickman, on the other hand, was delighted with the drawing and said, "I made him sign it, and I have it in my possession. I'm very fond of it."
7. He rewrote a few bad scenes in 'Robin Hood' with his friends over pizza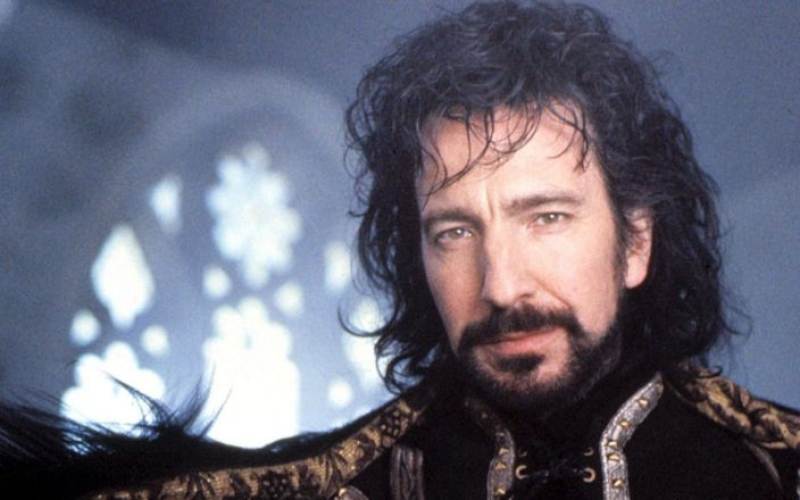 Rickman had portrayed the role of the evil Sheriff of Nottingham in Robin Hood: Prince of Thieves. In 2015, Rickman admitted that he and his friends rewrote some of the film's "terrible" scenes over dinner at Pizza Express.
According to Rickman, Barnes told him, "You should have a wench in a doorway, and then you should say, 'You. My room, 10:30,' and then turn to the other wench and say, 'You, 10:45."' Wax then told him to add the line, "And bring a friend." Director Kevin Reynolds put it in the movie.
8. He pranked Daniel Radcliffe on the set of 'Harry Potter'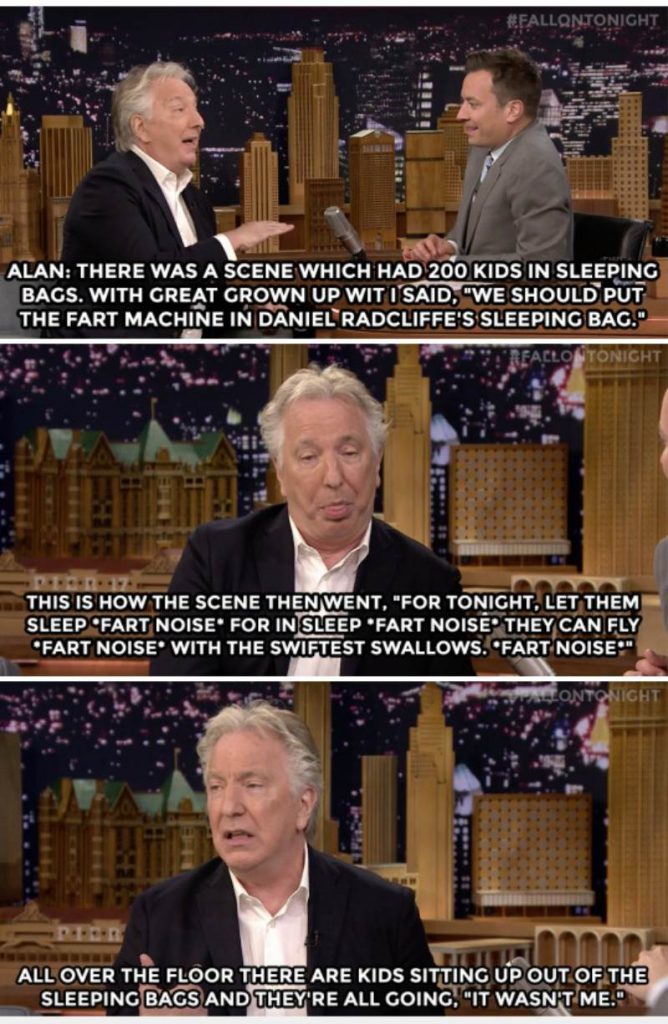 In Harry Potter and the Prisoner of Azkaban, there's one scene where Harry Potter spends the night in the Great Hall. Rickman, Gambon, and Cuarón hid a gas machine in Radcliffe's sleeping bag. They operated it with remote control and set it off at the most inopportune moments.
Both Radcliffe and Cuarón recall the episode with fondness. Radcliffe said in a Reddit AMA: "I immediately thought: 'This is one of the other kids [messing] around, and we were going to get in trouble.' But as it turns out, it was one of the members of Britain's acting royalty."
Check the video –
9. While directing Kate Winslet, he changed an entire scene at her request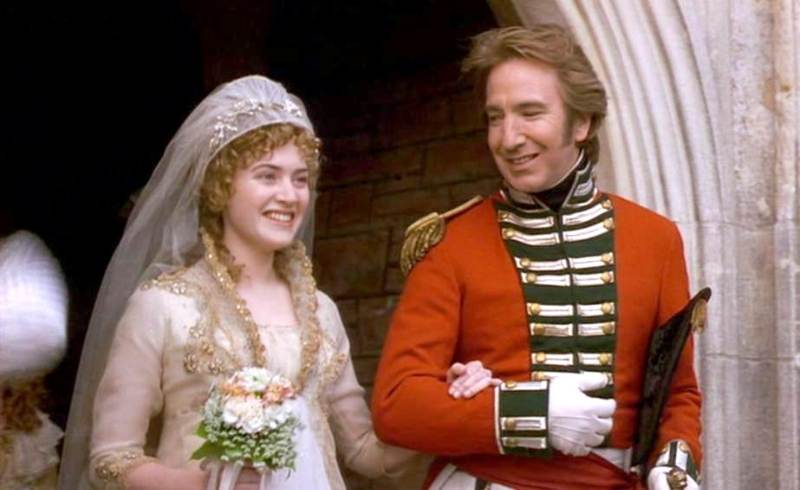 Colombia Pictures
Yes, Alan Rickman was also a director! He has directed the movie called The Winter Guest and A Little Chaos starring Kate Winslet. In an interview, Winslet revealed that Rickman listened to her as an actor and was willing to change an entire scene because it didn't make sense to her.
Winslet's character was supposed to destroy her garden as an act of self-loathing, a move the actress questioned. Rickman told the Los Angeles Times, "I sat in a chair and found a little corner. I thought, 'She is right to ask the question.'"
According to Winslet, "He changed it all. He changed the set to accommodate the idea. He was amazing like that."
10. He posed for a photo in his codpiece during the filming of 'Dogma'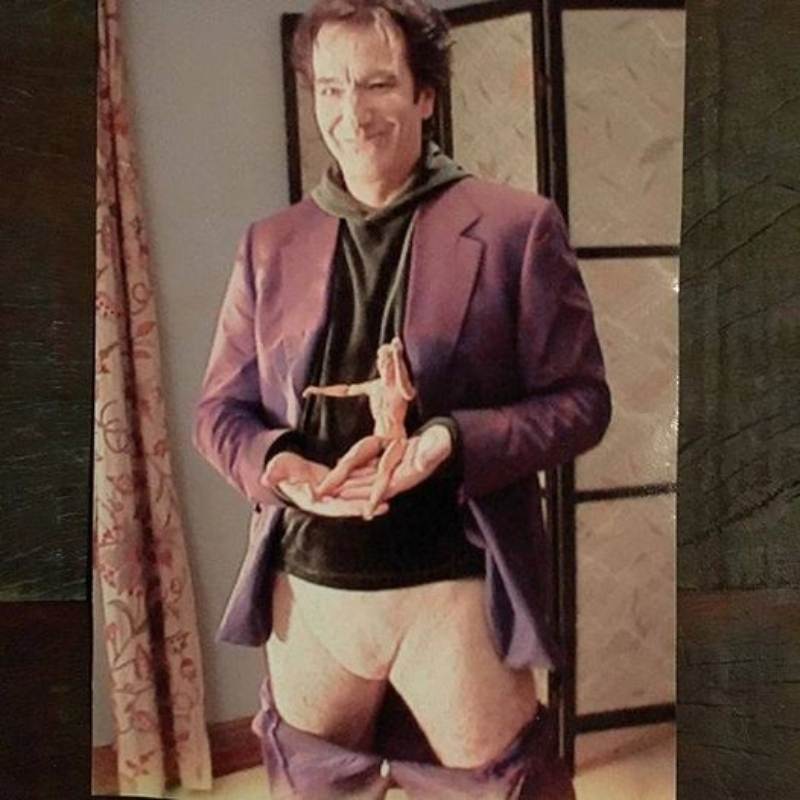 In Kevin Smith's Dogma, Rickman portrayed the "Voice of God." The codpiece Rickman wore to represent his genderless character amused him. Subsequently, Rickman humorously posed for a photo wearing the same prosthetic as his character in the movie.
After Rickman passed, Smith posted the story to his Facebook page, writing:
Alan was the first non-friend who signed up for the flick, but he became a great friend in record time. In this pic, he holds the Ken doll his Dogma character's lack of genitalia was modeled after. I'll never forget his incredible dulcet tones guffawing at the rubber crotch makeup he was wearing: one of the greatest actors who ever lived, tickled by a cinematic lack of a d*ck.
By the way, according to The Guardian, in 2022 Canongate will publish Alan Rickman's 27 diaries as one book. The diaries contain his thoughts on acting, politics, theater, and more, as well as behind-the-scenes stories from the Harry Potter franchise and other films.
Also read: 16 Fascinating Behind-The-Scenes Stories From The Sets Of 'Titanic'