With less than two weeks away, if you still haven't figured out what to give her this Valentine's day, don't you worry because we have some amazing gifts that will melt her heart and make her day.
Etsy
Are you in a long-distance relationship and are not going to be able to meet your darling on Valentine's day? Well you can definitely send her some love with this amazing hand-crafted personalized letter and pour your heart out.
Customer Review:
"Absolutely amazing. What a talented lady. This is absolutely perfect. Her communication was brilliant and it arrived in under 10 days. Thank you so much xx"
Amazon
Make memories that will last you a lifetime and have them printed on the go too. This Instax Mini Printer links to your smartphone and lets you print out pictures that look like polaroids.
Customer Review:
"I love this! Way better than getting a instax camera because now you can simply choose the best version of a smartphone picture. Pictures look GREAT!"
Amazon
Hydration is key to having a healthy body. We all know how we wish for the good health of our loved ones and partners. Tell them you care about them with this thoughtful gift of personalized insulated water bottle.
Customer Review:
"Absolutely in love with my Elemental bottle !
Sturdy, fits my cup holder, perfect for long days in the hospital – customized with my name on it – overall, a sleek & sexy-looking bottle !"
Amazon
Did you recently pop the question to her? If yes, this pair of stemless wine glasses is a cute lil gesture and gift from your end to her this Valentine's day.
Customer Review:
"We recently got engaged and ordered these glasses as our first engagment gifts to ourselves lol"
Amazon
How romantic is this coordinate bracelet that will always remind your partner of the place y'all first met, or had your fist kiss or even when you proposed to them. Since is customizable, you can get it tailor-made as per your requirement. If this doesn't scream Valentine's day, we don't know what does.
Customer Review:
"Bought this as a gift and personalized it with the coordinates of recipients birthplace, they loved it and now I'm about to order one for myself. Don't hesitate and buy this item, it is definitely a delicate and unique necklace."
Amazon
If your partner cannot begin her day without a morning cup of brew, this coffee maker is the perfect gift this Valentine's day. It shows how much you know her and care enough to get her this gift.
Customer Review:
"I love the quality and craftsmanship of this espresso maker. It is made of a heavy metal that looks and feels very durable, the finishing is very nice, and the handle and top part stay cool to the touch which is amazing."
Amazon
We have a beautiful set of bracelets in our amidst. Don't you think this one would just sit so well on your girl's delicate wrists? For a set of 5 and the fact that it is gold plated as well, it's a good Valentine's Day gift.
Customer Review:
"It's hard to believe that you can get this nice of jewelry for such a low price. Honestly I'd pay the tire price of this set for any one piece. They are all very nice and look very expensive"
Amazon
Another product that makes for a thoughtful gift is this smoothie blender. If your partner likes to stay fit and have smoothies on the go, this personal blender is going to do her some real good and make for a lovely Valentine's Day gift.
Customer Review:
"The PopBabies Personal Blender is a must for anyone that drinks meal replacement shakes/protein powder and smoothies. I was blown away by how effective this device is at mixing/blending my fine-powdered shake. "
Amazon
We all want out partners to be comfortable when at home, especially when we're lounging around. Here's a cute pair of fluffy slippers that you can get for her that will make her feet feel like they're in a cloud.
Customer Review:
"The quality of these slippers for the price is fantastic. The faux fur is VERY plush and look exactly like the photos. "
Buy for $15.99 – $17.99 (depends on size and color)
Amazon
Has she been hinting at you that she's wants a new bag for the longest time? Well man, now's the time to surprise her with this cute baby pink Michael Kors Crossbody Bag this Valentine's Day.
Customer Review:
"Very pleased with this purchase. Quality of the purse is fantastic. Perfect crossover purse with lots of space in it. I'll be purchasing more."
Etsy
Yes you could give her a rose that'll last maybe like 2-3 days, or you could get her this keepsake rose in a jar that is preserved to last for a very very long time.
Customer Review:
"Loved it, it was their favorite color as well. Truly a perfect, subtle gift that expresses what you're trying to say in words."
Amazon
Here's another customizable gift that you couldn't go wrong with. For something meaningful and minimalistic, this personalised cuff is a good option this Valentine's day. It is unique, so you could get your anniversary date engraved on it as well. Cool, isn't it?
Customer Review:
"Seller was great to work with, answered all additional questions I had. Bracelet was beautifully crafted and came with a large polishing cloth, a velvet bag, and came in a beautiful box.
Amazon
Here's a mug that's rather old-school and vintage looking. For if your partner's name starts from the letter 'R', this one's meant to be as a gift for Valentine's Day.
Customer Review:
"We used this cup for one of our favorite cocktails "Mule" it's personalized with my wife's initial, I'm going to have to get one as well."
Amazon
How about this cute pair of matching whale keychains for you and your sweetheart? They are adorable, have practical use and are something that y'all can twin with.
Customer Review:
"Super cute, well made, good packaging, came fast. Gave one to my hubby for Valentine's. Magnet is pretty strong. "
Amazon
If your girl keeps complaining about how she keeps losing her earrings or hoops all the time, you can get her this set and make her happy this Valentine's day.
Customer Review:
"Absolutely loved this ear ring. Exactly the sizes I was looking for. The gold color looks like a real gold. Great value for the money."
Etsy
Want to immortalize some of your most precious moments this Valentine's day? Gift her this personalized set of photos printed on brasswood. Such a unique idea, so worth it!
Customer Review:
"We love our gorgeous wooden photo. It truly looks beautiful in our home and it made for a heartfelt and wonderful gift. The seller was very nice and wonderful to work with as well. 10/10"
Amazon
We can't get over how adorable this 'Owl Always Love You' spoon is. The engraving looks so sweet and again, the gift has practical use to it.
Customer Review:
"This is the perfect gift for a peanut butter fan. My husband loves peanut butter and when I saw this, I knew I had to get it. It was very nice looking and he enjoyed receiving it. He immediately washed it off and ate a spoonful of peanut butter with it."
Sephora
These five decadent fragrances are Sailing Day, Beach Walk, Jazz Club, Lazy Sunday Morning, and By the Fireplace. You can give her this for Valentine's day so she can have almost one fragrance to alternate between everyday.
Customer Review:
"I love nearly every scent Maison Marigela releases for the Replica line & this was a perfect gift."
Amazon
This one's the perfect statement jewelery piece that your partner will love if she's into bold jewelery and fashion.
Customer Review:
"Initial impression is great! It's adjustable and comfortable. Looks exactly like photos. I received a lot of compliments on it."
Amazon
How absolutely adorable is this ring holder? She can place this on her nightstand or vanity and always know that her jewelery's going to be safe. This one is a really thought Valentine's day gift for her.
Customer Review:
"Loved the box my dish came in! Plus the dish is amazing and so cute as well, completely happy with my early valentine's gift."
Amazon
Yet another one for hydration nation for ya girl! This one's even easy to drink out of because of the straw. Gifts like these on Valentine's day shows that you truly care.
Customer Review:
"This is really useful for me right now. I really love how tight the lid and straw fit. I like the weight. I like the diameter to height ratio. I like that there are two straws included (One colored and one translucent)."
Amazon
Not only is does this make for a lovely watch, but also doubles up as bracelets that she can wear as a bunch or separately. This bangle watch and bracelet set surely have more merit than meets the eye and is a great Valentine's day gift for her.
Customer Review:
"I love this watch, it looks very expensive and classy. I have it in gold and black as well.
The clasps are removable so you can adjust based on your wrist size."
Amazon
We can't take our eyes off of this beautiful dainty necklace that you could get customized with your partner's initials for Valentine's day. This is the kind of jewelery that she can wear perhaps everyday.
Customer Review:
"I really like how it looks, and I'm happy that it is sturdy enough so you never have to take it off if you don't want to. I would recommend this to other people, since I have had it for a few months now."
Etsy
Yep, it's a camping themed gift box. How about you surprise her with this pre-Valentine's and take her for camping on that day if she loves the outdoors. This has all the possible things that she might need when she's out with you.
Customer Review:
"I love my items! They are both so comfortable and I can wear all day with no headaches! Super cute & easy to work with. I am planning on ordering more."
Etsy
Gift this to your girl on Valentine's day and see the smile on her face widen like never before! You cannot go amiss with chocolates, especially such pretty ones.
Etsy
Honestly, this gorgeous scarf speaks for itself. Can you believe that it's handmade? Get her this unique piece for Valentine's day and you can thank us later.
Customer Review:
"Wow! This is an absolutely gorgeous creamy white scarf, handmade and shipped from Turkey! It is described as a "Creamy White Scarf Shawl Cowl with Lace Edge." It is so beautiful, very elegant, and the lace is so pretty and delicate."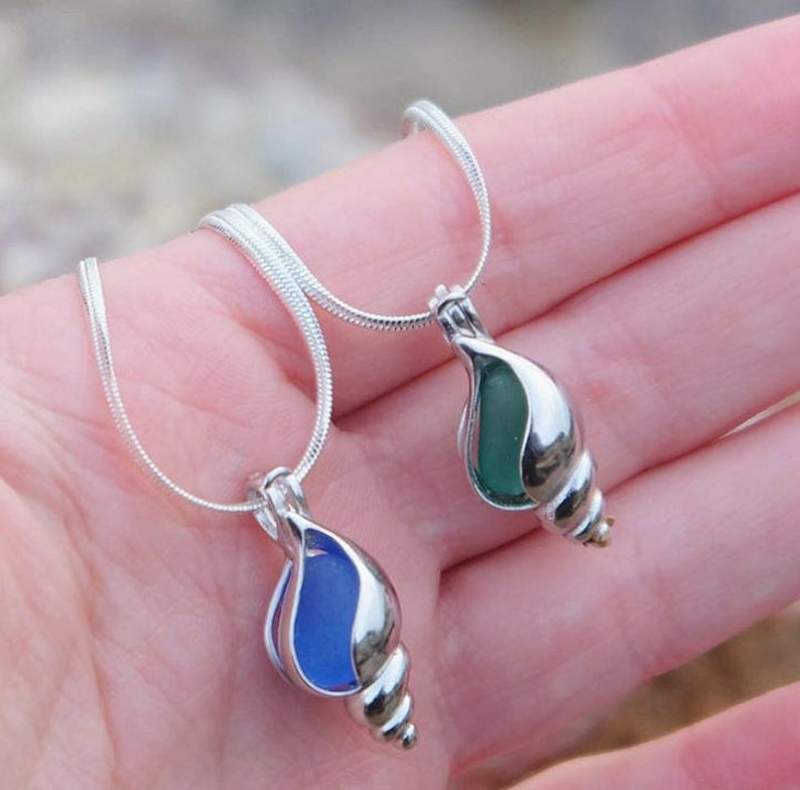 Etsy
Here's another handmade gift for Valentine's day for her. It replicates a sea shell and has a minimalistic appearance to it making it look like a sea shell. Pretty isn't it?
Customer Review:
"I received my shell sea glass necklace. It is so beautiful. I can not wait to wear them. I highly recommend this shop to everyone. She takes so much pride in her work. And she truly loves what she does. I couldn't be happier. She is super nice."
Sephora
Never will a girl ever turn down or not like skincare and haircare products. This one's another foolproof Valentine's day gift that she'll love. Best thing? It's available at a great discount right now!
Customer Review:
"The leave in condition works wonders and smells so good. This dry shampoo has turned into my new favorite. I really like the shampoo very detoxifying leaving hair clean for a few days. I looove the smell of all of these!"
Amazon
Has she been using her Apple watch for the longest time, so much so that its strap is completely worn out? Well maybe Valentine's day strikes as the right opportunity to get her a new one, right?
Customer Review:
"All I can say is that I'm impressed. I've bought magnetic bands, clasp bands, metal bands, rubber bands, and one other "leather" band for Apple watches in the past. This is by far the highest quality I've come across and is still at an insanely great price. "
Sephora
Like we said, skincare is like a goldmine for a girl. She can never have enough face masks, lotions, or hand creams. This is a limited-edition set of must-have skincare essentials that'll help her achieve visibly smooth, radiant, and hydrated skin.
Customer Review:
"All products being full size for this price is such a steal!! The toner pads are probably my favorite out of all work so good and feel nice and refreshing! I'm in love with all and definitely will be purchasing more from first aid:)!"
Etsy
Imagine a romantic candle-lit Valentine's day dinner with your partner. Now imagine this beautiful touch where the candle has your names on it. Exquisite, right? She could use this candle as a keepsake and a remembrance of your love or even put it to use.
Customer Review:
"Omg, soooo adorable! What a great value too. I would have expected this to cost much more. It's perfect! Thank you very much."
We hope this list of gifts has given you some idea as to what you want to get her. Honestly though, any one of these gifts above will win her heart this Valentine's Day.
Also Read: 25 Makeup Products For Your Favourite Beauty Queen This Valentine's Day
25 Stunning Jewelry Pieces You Could Get As Valentine's Day Gift For Her
We hope you love the products we recommend! All products featured on Munchable are independently selected by our editors. If you buy something through our retail links, we may earn a commission on the sale. Oh, and FYI — prices are accurate and items in stock as of the time of publication.