See no one told you 2020 was going to be this way, that's why as you enter 2021, gear up to face it with these amazing Friends merchandise and make your day! If you're an avid fan, you gotta get your hands on each and every one of them!
Amazon
The most controversial board game ever? Check! Only the best TV show ever? Double check. What happens when the two of them are married? WE KNOWWWWW! *cue Monica's high-pitched ringing*
Amazon
Could your door peephole BE any cooler? We think not! Also, if you're feeling a tad bit too adventurous, go ahead and paint that door lavender. YOLO.
Amazon
This tumbler has double-wall insulation that will keep your hot drinks hot and cold drinks cold. And hey! It has some really cool quotations and peak moments from the show printed on it. The tumbler also makes for a sweet gift for a F.R.I.E.N.D.S fan.
Amazon
If you can name all of Ross' wives and ex's without blinking an eye, you might want to play this game and declare yourself the BIGGEST F.R.I.E.N.D.S fan! Make a night of it and have a fun trivia night with your friends.
Amazon
Now have a lil 'Unagi' reminder or small fun F.R.I.E.N.D.S. stickers on your laptop, phone, notebook etc., with this bunch.
Amazon
'Tis the season to be jolly, so here's a cool F.R.I.E.N.D.S version of a Christmas ornament. It's unique and truly allows you to express your love for the amazing show in a Christmasy way!
Amazon
Seven! Seven! Seven! Seven! ….seventh item on this list if a t-shirt for all you gals out there with the famous quote from one of our favorite episodes. 'They don't know that we know they know we know'. A tongue twister, eh?
Amazon
This definitely deserves a laugh and a half! Gifting someone these bath bombs is a cute way of telling them how much you love 'em. Remember the episode when Chandler confesses to Monica?
Amazon
Is your fridge filled with magnets? And are you an avid fan of possibly the best series ever? Well, then this one's for you!
Amazon
Rachel is Ross' lobster! But who's yours? Gift this keychain to your loved one and tell them how you feel about 'em.
Amazon
Yes, you read that right and NOPE we are not kidding! This is a Lego version of the actual Central Perk that you can assemble by yourself. Honestly, what are you waiting for? Not getting this will be a moo point.
Amazon
You might not even have a 'pla-', but with 2021's around the corner, so you're going to be needing a calendar and planner to get things in line, right? Before you pivot into buying a planner to organize your life, here's one with a F.R.I.E.N.D.S. theme. Yup, you can thank us later!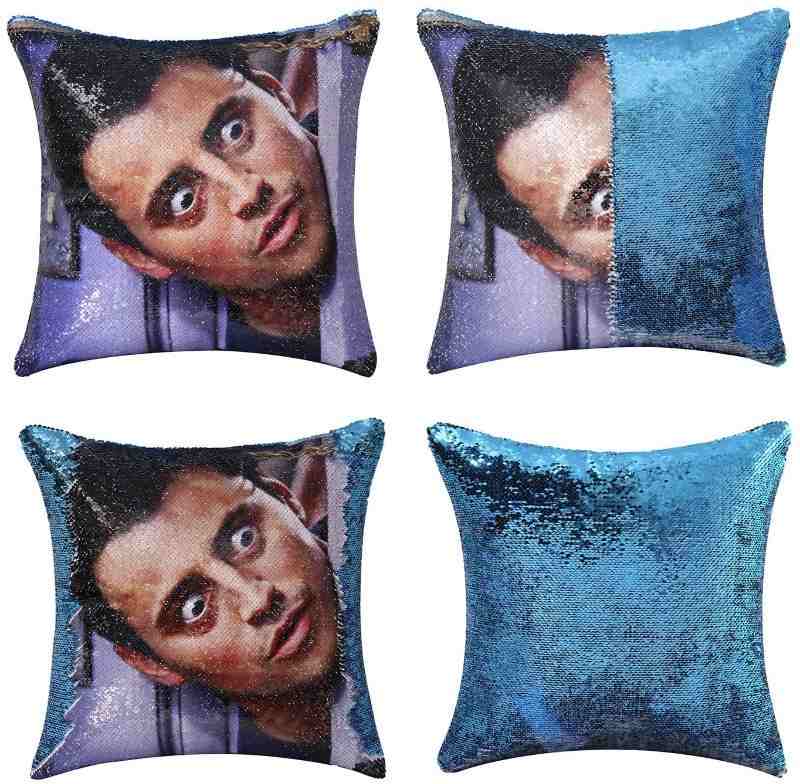 Amazon
Everything about this sequined throw pillow will draw you towards it. It changes color, has Joey on it and is a fun decor piece for home!
Etsy
'I have enough socks.', said no person ever! Here is a nice pair of thick F.R.I.E.N.D.S characters' socks to brighten up your outfit!
Etsy
Want to express your love for the show in a more subtle way that's close to your heart? Here's a cool accessory that you can wear. The quirkiness on this one will remind you of Phoebe's fashion style.
Etsy
This one's not for Monica or Ross, this Geller cup if for YOU! The best part? You don't have to play football for it. Is this the best memorabilia from the show? You tell us.
Etsy
Some might say this is a little extreme for art and for some this is a perfect piece of art. Memorialize this series with a Gladys painting. Because those who know, know.
Etsy
Remember this episode where Rachel made a big flash at the football game? Lol. This is the exact same t-shirt in its replica version that she was wearing. Get it for yourself now!
Etsy
We all remember the Halloween party when Chandler was dressed at a pink rabbit and Ross as a Spud-nik! What a banger of an episode that was! Here' a t-shirt memorializing just that.
Etsy
Last but not the least, here's a classic F.R.I.E.N.D.S logo hoodie for all you fans out there! With winter upon us, this is a good investment.
We hope you love the products we recommend! All products featured on Munchable are independently selected by our editors. If you buy something through our retail links, we may earn a commission on the sale. Oh, and FYI — prices are accurate and items in stock as of the time of publication.